Call Us
For Free Quote
1300 766 614
Commercial Service
Residential Service
Cockroach Removal
Visit Our Blog
The Competitive Team got all colourful in the name of Charity!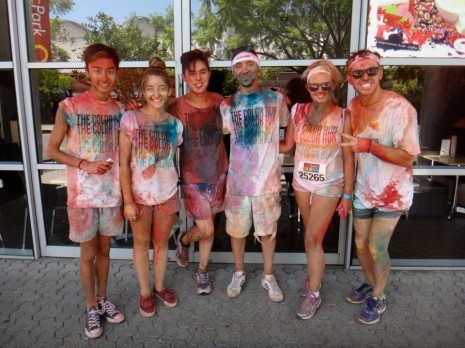 The self-proclaimed "Happiest 5k on the Planet" took place down in Homebush, with everyone adorning white outfits. Our own director, Gary Journeaux was even spotted representing the company in his own custom Competitive Pest Services white shirt. These shirts, however, didn't stay white for very long.
The Colour Run is a family-friendly run for those who don't mind being a human canvas and joining into a huge Jackson Pollock-like paint session. Every kilometre of the race has a different colour station, where volunteers armed with bottles full of coloured dye pelted them at runners who pass by. The result is a powder-filled air and tie-dye t-shirts at the end.
Let's just say though, that the Competitive Team didn't do much running, spent most of the time at the colour stations throwing coloured powder at each other and ended up at McDonald's afterwards for some well-deserved nourishment! Even so, it was a great, team-building event that brought everyone closer together and all for a good charity, the HeartKids Australia charity!