Call Us
For Free Quote
1300 766 614
Commercial Service
Residential Service
Cockroach Removal
Visit Our Blog
Are you between 18-30 years old?
Do you currently work in the pest control industry?
Would you like to swap the UK winter & be on an Aussie beach by 5pm?
Competitive Pest Services is currently looking for two technicians to assist during their summer peak season (October 2015 – March 2016). Escape the UK winter and earn AUD $1,000 per week.
Competitive Pest Services Managing Director, Gary Journeaux, will be attending PestEx 2015 in London, and is looking to interview potential candidates that understand exceptional customer experience.
To learn more about this exciting experience, please contact summerinoz@cpests.com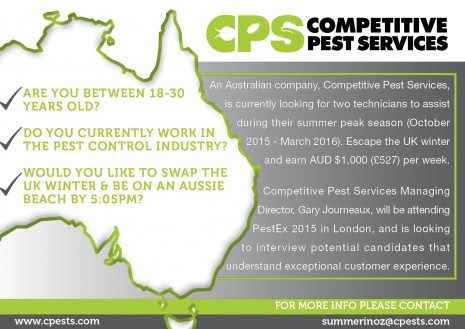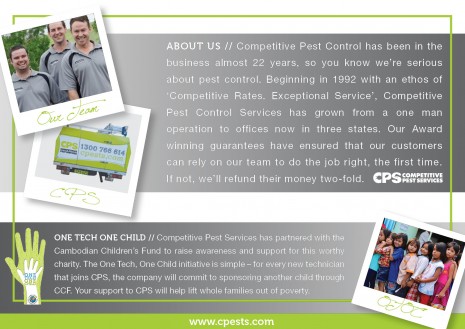 Our Team
Competitive Pest Control has been in the business almost 20 years, so you know we're serious about pest control.
read more
This is an orphanage that was started by an Australian Scott Neeson. Scott visited Cambodia about six years ago, and was so moved by children scavenging on the Phnom Penh rubbish tip...
read more