The impact of locusts on industry and agriculture.
---
Farmers across Pakistan are suffering one the worst plague of locusts they have had in recent history, which has caused multiple billions of dollars in damage and may even cause long-term food shortages.
The Pakistani government have declared this plague a national emergency this year after the locusts began to eat away and destroy winter crops. The first swarm came from the United Arab Emirates in mid-2019, the following weeks are reported to show a new infestation is expected to arrive from Iran.
How do these swarms form?
The destruction from these swarms is devastating, but how do they form and begin you may ask? When desert locusts meet, they release the chemical serotonin, which then makes them become attracted to one another, which is needed for swarming. The first bands of locusts are known as "outbreaks", and when these join together into larger groups, the event is known as an "upsurge". Which are the massively devastating swarms we have seen lately in Pakistan.
Why are locust swarms so destructive
In the case of this latest resurgence or flying pests in Pakistan 40-80 million locusts were estimated in a swarm that spreads over 1 square kilometer. "These many locusts can eat/destroy crops equivalent to the feeding need of 35,000 people in a day." That's an insane number and can deeply affect the communities they come into contact with. This is Economically devastating to many small and big business owners. According to the FAO, a major locust invasion between 2003 and 2005 across 20 countries in northern Africa caused more than $2.5 billion (€2.2 billion) in harvest losses.
Increase in agriculture
Wet and warm weather in the region brought on by drought followed by heavy rain has created an ideal place for vegetation to grow, and with a larger amount of vegetation, a larger amount of locusts are due to follow as they have more food to eat.
Is climate change to blame?
It is an open question, but it's a worrying possibility. Ocean circulation patterns aside, climate change is warming the oceans everywhere, which is expected to trigger more intense downpours. Therefore, like we mentioned earlier creating more vegetation for locusts to attack. In the Arabian Sea, new research suggests global warming is already making autumn cyclones more intense. At the same time, other research has tied climate change to worsening droughts and failing rains across East Africa, painting a picture of an uncertain future, but one that's almost certainly more dangerous.
What can you do to prevent flying insects?
Just as the well-known saying goes that one man's trash is another man's treasure, the trash and waste in a home can be a gourmet meal to flying insects as well as other pests To prevent bugs from eating on your trash and invading your property, proper storage and handling are essential. Keep food waste in the kitchen and not in wastebaskets throughout the house. The trash should be placed in a trashcan or container with a secure lid, and should be emptied each night. Exterior cans should have self-closing lids along with tight seals to keep insects out. All interior and exterior trash receptacles and recycling bins should be cleaned and sanitized regularly, especially if they are exposed to spills.
Don't wait till it's too late
As we always say here at Competitive Pest Services, prevention is better than a cure. So don't leave it till the final hour to arrange a pest inspection. Schedule regular inspections and stop small problems blowing out and becoming major (and expensive) issues further down the track.
Flying insect pest control is important, help your home or business today by booking a pest inspection with CPS today – phone 1300 766 614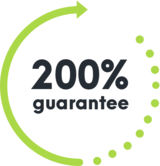 WE'RE NOT HAPPY UNLESS YOU'RE HAPPY
SEE HOW IT WORKS
With Competitive Pest Control Services you'll never have to worry about paying for a job that hasn't been done.

If you're not satisfied with our services, we'll not only give you your money back, we'll return it to you twofold. That's right: you'll not only receive a full refund, we'll also pay to have your pest problem sorted by our competition.*

We're always trying to raise the standard of service, it's one of the reasons we were name Australian Pest Manager of the Year four times in the past six years. When you employ our services, you know your pest problem will soon be a distant memory. What could be more satisfying than that?

*Please contact us to hear more about our 200% Money Back Guarantee - as due to issues sometimes outside our control, not all services may be covered by this offer.
Talk to us about pest control for your home or business