One Tech, One Child Initiative – Sothea
---
A Letter From Sothea
My beloved Gary,
Today I am very happy to write you another longer email to tell you more about my life and my family. To do this I need a mail translator to help me. She will put my words in English so that you can read my life story easily.
I am sure you know my name clearly but I want to tell you again. My name is Ven Sothea and my given name is Sothea, the one you usually use in your emails. I was born on August 10, 2000 in Takeo Province. I have a half elder sister, a half elder brother and a little sister. I came 3rd in my family. My family lives in a small rented room in the Steung Meanchey area, the former dumpsite of Phnom Penh City.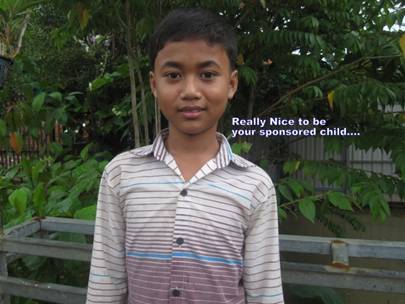 Back in our hometown, my parents were famers and sometimes my father worked on building sites. They worked so hard but our lives were always very difficult so my family decided to come to live in Phnom Penh city to try to make things better. Once in the city, they rented a hut and started to look for work. They found jobs as construction workers. This kind of work is not paid well so they changed again so that my father became a motorbike taxi driver and my mother has sold some meat at a market. But she does not have a proper store to do her very small business. I pity my mother a lot as she is weak and she has to earn money to keep the family alive.
I used to pick up garbage around the place where I live. I looked for anything I could resell. But my tiring job could not make life any better for my family. It only brought in the price of some snacks. I seldom had good food to eat or nice clothes to wear. Even though we lived in very hard conditions, my parents' kind hearts enabled them to send me to a primary school.
One day my mother got to know about CCF from our neighbor. She hurried to bring me here and asked for a chance for me to study here. What a happy day! I passed and was accepted as one of CCF students. I started my study here on 20th August 2009. My parents and I were so happy with this. Later, I was moved onto the CCF External Education program on 30th May 2011. At CCF, I study English and computer. I get other supports from CCF too – they are study materials, school uniform, bread and health care. First I wanted to work in a bank, but now I want to be a teacher of English – perhaps this is because I see my teacher at CCF!
Today I will put in more some pictures for you. The first one was taken with my mother when we came for the interview. The rest are my sweet smiles with hope after I get help from CCF and you, my beloved Gary.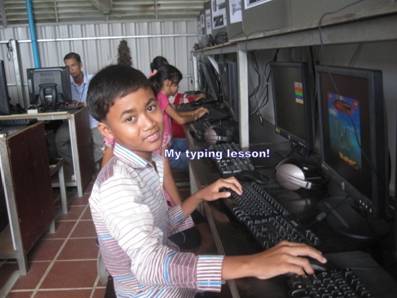 Thanks Gary for reading my life story from the beginning. I want to tell you that I am so lucky to be your sponsored child. Your help means a lot to me and my family. I hope that our communication will be better and better. I love YOU!
Very Big Hugs,
Sothea