Cute or not, we'll keep furry and feathered pests out of your home
It's your home, not theirs. Competitive Pest Control Services have the expertise to remove all manner of unwanted wildlife from your home and property. Rats, mice, bush rodents, birds, rabbits, foxes and other feral animals, are no match for the trained eye and experienced inspections of our technicians. If you have a problem with wildlife from tiny rodents to large creatures, we're here to help with solutions that last.
Rodents, Birds and Other Wild Animals
Birds
---
The unsightly bird droppings you see on signs and buildings are more dangerous than they look. Birds carry more than 60 transmutable diseases and pathogens in their droppings, including E.Coli and Salmonella. As the droppings dry out they turn to powder, carrying the pathogens in the air. Flocks of birds can cause significant structural damage and corrosion to building surfaces, while their nests can have a negative effect on electrical systems and air conditioners. If you have birds wreaking havoc on your property, contact us to have one of our bird pest control specialists inspect your property and develop a tailored plan to effectively remove the birds and stop them coming back.
Read more about Birds
Feral Animals
---
Feral animals making a home in your home can cause distress, damage to your property or worse, pose a danger to your family and pets. Our technicians are trained to handle feral animals to remove them as the first step in a customised pest control plan. Our solution will target every vulnerability feral animals use to enter your home, including cavities, crawl spaces, voids and damage to building structures. Our treatments include traditional traps, bats and other tools to remove these pests and ensure they don't come back.

If you're experiencing problems with feral animals around your home, contact us to have a professional technician inspect your property.
Mice
---
The common house mouse is a slender little rodent usually coloured brown to grey, with large rounded ears and bulging eyes. They are excellent climbers, jumpers and swimmers although they prefer not to swim. They will feed on animal feed, nuts, grains but despite what you may have been told cheese is not a favourite food. Telltale signs of mice in the home are small droppings, urine stains/smells, gnaw marks on food products or even sighting them out in the open. Their population size can increase rapidly and the female can reproduce from two months of age having up to eight in a litter at a time, so if you suspect you have mice, contact us quickly for a professional inspection and eradication plan.
Read more about Mice.
Rats
---
Two species of rat are most commonly found in homes, The larger, heavy set Brown Rat and the slender Black Rat with a pointy nose and big ears. They require access to a lot more water than mice and leave larger telltale droppings, around 12mm - 18mm in length. Prolific breeders, they like to live in roof and wall cavities, living for about a year producing 4 - 5 litters from as early as 3 months old. Rats can be a fire hazard in older buildings, with a tendency to gnaw on loose wiring. If you suspect rats are in your home, contact us for a professional inspection right away.
Read more about common Rats.
Other Wild Life
---
For some homes, the proximity to nature means inevitable visitors of the furry and scaly kind. We all love animals, but sometimes they're not welcome in our homes. Wildlife in your home can quickly go from being a nuisance, to causing distress and worse, damage to your property. We have technicians trained to find entry points and nesting spots for all manner of wildlife and then removing them by various means. Sometimes it means getting down on our hands and knees, but we'll do what it takes to protect your home and property for the long term.

We're experienced with developing removal plans for wildlife including bats, birds, bush animals, feral cats, foxes, possums and rabbits , while taking measures to prevent their return.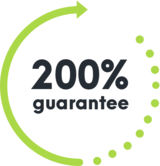 WE'RE NOT HAPPY UNLESS YOU'RE HAPPY
SEE HOW IT WORKS
With Competitive Pest Control Services you'll never have to worry about paying for a job that hasn't been done.

If you're not satisfied with our services, we'll not only give you your money back, we'll return it to you twofold. That's right: you'll not only receive a full refund, we'll also pay to have your pest problem sorted by our competition.*

We're always trying to raise the standard of service, it's one of the reasons we were name Australian Pest Manager of the Year four times in the past six years. When you employ our services, you know your pest problem will soon be a distant memory. What could be more satisfying than that?

*Please contact us to hear more about our 200% Money Back Guarantee - as due to issues sometimes outside our control, not all services may be covered by this offer.
Close
DON'T JUST TAKE OUR WORD FOR IT