Request Callback
Protecting your home from pests is a process, not a one time event. Our highly trained technicians and award winning pest control service will keep even the most stubborn pests at bay. Our equipment and products are ultra-modern and effective, as well as being safe for your family, pets and the environment.
When you call Competitive Pest Control Services, not only are you protecting your home and family from pests, you're also ensuring they're safe from nasty chemicals.
Australia is renowned for being home to some of the deadliest pests in the world. From poisonous snakes to massive spiders with the capacity to make even the manliest man shriek, you'd be hard-pressed to find an Australian property that doesn't host a least a couple of creepy critters.
The good news though is that contrary to popular belief, most of these animals and insects aren't out to get you. And based on our experience, the majority of the pests we find inside clients' homes are relatively harmless. If you want to know whether Competitive Pest Services is your best bet
Read on to learn more about Melbourne's most common pests or call us today if you require assistance with any of these critters.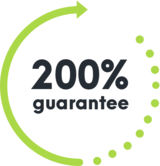 WE'RE NOT HAPPY UNLESS YOU'RE HAPPY
SEE HOW IT WORKS
With Competitive Pest Control Services you'll never have to worry about paying for a job that hasn't been done.

If you're not satisfied with our services, we'll not only give you your money back, we'll return it to you twofold. That's right: you'll not only receive a full refund, we'll also pay to have your pest problem sorted by our competition.*

We're always trying to raise the standard of service, it's one of the reasons we were name Australian Pest Manager of the Year four times in the past six years. When you employ our services, you know your pest problem will soon be a distant memory. What could be more satisfying than that?

*Please contact us to hear more about our 200% Money Back Guarantee - as due to issues sometimes outside our control, not all services may be covered by this offer.
Close
Talk to us about protecting your home from pests
Commonly Asked Questions
How long does a pest control service usually take?
Depending on the treatment chosen, the size of your home or apartment, including number of bedrooms, our service times can range from 45 minutes to two and a half hours.
How can I pay for the service?
It's a pay on day service, and our technicians carry eftpos machines on them, taking all cards including AMEX. Unfortunately the only method of payment we cant accept is cash.
What does a pest control do?
Depending on the service booked, our general pest control Melbourne service covers large and German cockroaches, webbing spiders, silverfish, carpet Beatles and ants.
When can you get us in?
Depending on your location, we can usually accomodate within the next day or two.
How long does it take for the products to work?
Due to the environmentally friendly nature of our products, they can take up to five week elimination period to take full affect. However, rest assured the products will start working immediately.
Do I need to get a termite inspection?
With one in three homes affected by termites in their lifetime, Australian Standard 3660 recommends that all homes have a termite inspection carried out at least annually. The reasoning behind this is that the termites can be detected before they cause significant damage.