Job Opportunities with Competitive Pest Services
Having an extraordinary and fun job is important, but so is creating yourself.
To do both, you need the right opportunities.
We support and encourage both your professional and personal development.
Whether you are just starting out or have vast experience in the workforce, explore our opportunities and find out what type of career you can create with us.
Our job opportunities are far from routinary but above all, you will get the chance to be part of a committed and collaborative team.
We pride ourselves on being an equal opportunity employer and embrace a culture of workplace diversity.
Safety is paramount in our industry. We are committed to protecting the safety of our employees, our environment, our customers, and our communities.
We provide a range of benefits including ongoing professional development, flexible working conditions and competitive remuneration packages.
At CPS we recognise that it is our people who are our greatest asset. We are committed to giving all employees the opportunity to grow their skills, gain valuable experience, develop professionally and work on exciting and diverse work environments.
If this sounds like the right place to be, apply for a position with us.
AEPMA | AUSTRALIAN ENVIRONMENTAL PEST MANAGERS ASSOCIATION
2012 | 2013 | 2016 | 2017 Winner - Australian Pest Control Manager of the Year
Read More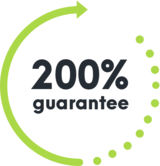 WE'RE NOT HAPPY UNLESS YOU'RE HAPPY
SEE HOW IT WORKS
With Competitive Pest Control Services you'll never have to worry about paying for a job that hasn't been done.

If you're not satisfied with our services, we'll not only give you your money back, we'll return it to you twofold. That's right: you'll not only receive a full refund, we'll also pay to have your pest problem sorted by our competition.*

We're always trying to raise the standard of service, it's one of the reasons we were name Australian Pest Manager of the Year four times in the past six years. When you employ our services, you know your pest problem will soon be a distant memory. What could be more satisfying than that?

*Please contact us to hear more about our 200% Money Back Guarantee - as due to issues sometimes outside our control, not all services may be covered by this offer.
Close
Talk to us about pest control for your home or business
HERES WHAT OUR CLIENTS SAY

---
Pamela Styling
General Manager Property Management
McGrath Lower North Shore
---
Pest Management Services
CPS works with McGrath to provide Pest & Termite Services across their portfolio of Managed Properties.
---
"We have used CPS as our preferred pest control partner for several years. We have always found them professional and very reliable, which is of utmost importance when dealing with the intricacies of tenancies and vendors during a sale campaign. We always find them quick to get out to our properties, the service is always excellent and the job done well, and there is an added benefit with CPS that they are also proactive in scheduling follow up treatments for the more serious issues like termites. I have never had a dissatisfied customer and we have had them attend hundreds of our properties. I would happily recommend them to anyone looking for a pest control company."

---
Ausgrid
---
Pest Management Services
---
Competitive Pest Services has provided contractual routine pest control and termite inspections and treatments to Ausgrid for the last 12 years, and recently was awarded a 3 year contract extension. In addition to the contractual services provided, Competitive Pest Services also provides after hour emergency services that includes removal of pests at all Ausgrid depots, substations, offices and warehouses.

---
Glenys Richardson
Senior Property Manager
Ray White Lower North Shore
---
Pest Management Services
CPS to assists in the Pest Prevention of the homes under management, working together with Property Managers, Tenants & Owners
---
"I have had a wonderful relationship with Competitive Pest Control over the past 5 years and would highly recommend them to to others.

Totally professional, prompt and great service for a wide range of pest issues with competitive pricing."


---
Vincent Ong
Procurement & Contracts Manager
Christian Brethren Community Services
---
Pest Management Services
CPS provides Regular Pest Services to CBCS Retirement Villages & Aged Care Facilities across NSW.
---
"Glad we made the decision to partner with CPS. They know their business and take the initiatives to come on schedule to get the work done. I would highly recommend CPS."




DON'T JUST TAKE OUR WORD FOR IT