3. Termites Devour Grandmother's $69,000 in Cash Savings
---
Termites eat life savings money
A Chinese grandmother was shocked to find that her cash savings, worth $69,000, had been partially devoured by termites.
The woman, living in Guangdong in southern China, had stored the large sum of money in bank notes in a drawer at her home.
Her children had given her the money months ago, and rather than depositing the money in the bank, she had kept the bank notes stowed away in a plastic bag in her drawer for six months. She had planned to redecorate her house with the money.
When she tried to retrieve the money, she discovered that large amounts of it had been eaten away by termites. The grandmother said that some of the cash was now stuck together by the termites' mucus.
The money was taken to the bank and staff spent some time checking the notes to determine what could be saved. Around $10,3000 was lost and the rest was recovered.
Source: http://news.ninemsn.com.au/world/2013/06/12/17/16/grandmother-s-savings-worth-$69000-eaten-by-termites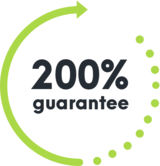 WE'RE NOT HAPPY UNLESS YOU'RE HAPPY
SEE HOW IT WORKS
With Competitive Pest Control Services you'll never have to worry about paying for a job that hasn't been done.

If you're not satisfied with our services, we'll not only give you your money back, we'll return it to you twofold. That's right: you'll not only receive a full refund, we'll also pay to have your pest problem sorted by our competition.*

We're always trying to raise the standard of service, it's one of the reasons we were name Australian Pest Manager of the Year four times in the past six years. When you employ our services, you know your pest problem will soon be a distant memory. What could be more satisfying than that?

*Please contact us to hear more about our 200% Money Back Guarantee - as due to issues sometimes outside our control, not all services may be covered by this offer.
Talk to us about pest control for your home or business