CPS Technicians Training Updates
---
Recently, the annual timber pest inspection of all the buildings at Newington Armoury in Sydney was conducted by Zac Castles (CPS Senior Timber Pest Technician), Brett Black (CPS Technical Manager) & Nicholas James (CPS Trainee Timber Pest Technician).
This is a great location to train technicians & expose them to a range of different timber pest evidence. This site was used to produce & store ammunition during the Second World War. Several of the buildings on the site are heritage listed & are constructed in a manner specific to that time with particular timbers & construction methods.
An array of timber pest activity & evidence was found during the inspection such as subterranean termites – active Coptotermes sp to trees & buildings, Anobium Borer (Furniture Beetle) damage to pine flooring and Lyctus Borer (Powderpost Beetle) damage to hardwood bearers & joists below a number of buildings.
Exposure to a range of different timber species gives our trainee technicians the ability to determine & identify what timber pest species they may encounter in buildings constructed in that era. Additionally, understanding the construction method of the building can help assist & determine where subterranean termites may have accessed the structure which will allow the most suitable treatment method to be formulated to control the infestation. These skills can then be utilised when inspecting any buildings around Australia that were built from that period.
We have Shaun Daley-Plassan (CPS Service Manager), Dwayne Martin (CPS Pest Specialist) and Jared Ermoneta (Pest Specialist) currently in the process of taking timber pest courses and training to be termite qualified.
CPS is constantly working towards expanding our technicians technical and pest expertise to better service our customers.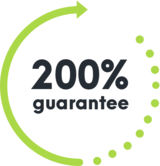 WE'RE NOT HAPPY UNLESS YOU'RE HAPPY
SEE HOW IT WORKS
With Competitive Pest Control Services you'll never have to worry about paying for a job that hasn't been done.

If you're not satisfied with our services, we'll not only give you your money back, we'll return it to you twofold. That's right: you'll not only receive a full refund, we'll also pay to have your pest problem sorted by our competition.*

We're always trying to raise the standard of service, it's one of the reasons we were name Australian Pest Manager of the Year four times in the past six years. When you employ our services, you know your pest problem will soon be a distant memory. What could be more satisfying than that?

*Please contact us to hear more about our 200% Money Back Guarantee - as due to issues sometimes outside our control, not all services may be covered by this offer.
Talk to us about pest control for your home or business