CCF Sponsorship
---
Gary Journeaux wanted to make a difference to a child's life and be a part of that journey of transformation. He also wanted it to be more than about his own involvement.
So he chose to make the sponsorship through his company in Australia, allowing his staff to become engaged in the process and develop a relationship with the children too.
That was back in 2012.
Since then, Gary has sponsored several CCF children with his firm Competitive Pest Services and contributed more than $57,000 AUD through the program. Currently, they sponsor four children.
Gary has visited CCF several times, bringing his team of employees with him so they can see with their own eyes the difference that the sponsorship is making for some of the most impoverished children in Cambodia.
Their sponsorship helps educate a child and, in turn, can lift an entire family out of poverty.
"It's been great," says Gary, 42, who is based in Sydney.
"We've been lucky enough to have time getting to know our kids in person. We've seen where they live, where they go to school, we've met their friends and taken them on outings and shopping trips."
His staff have been penpals with the sponsored children, swapping emails to learn about each other's lives and their differences thousands of kilometers and worlds apart.
"There's a lot of benefits from our staff having dialogue with the sponsor children," says Gary.
"It's great to see the children growing up. We have seen the transformation in a lot of children and what CCF has done there [in Cambodia]."
Thank you to Gary, Competitive Pest Services and all his staff for giving Cambodian children the chance of an education!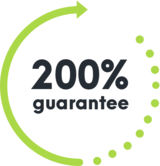 WE'RE NOT HAPPY UNLESS YOU'RE HAPPY
SEE HOW IT WORKS
With Competitive Pest Control Services you'll never have to worry about paying for a job that hasn't been done.

If you're not satisfied with our services, we'll not only give you your money back, we'll return it to you twofold. That's right: you'll not only receive a full refund, we'll also pay to have your pest problem sorted by our competition.*

We're always trying to raise the standard of service, it's one of the reasons we were name Australian Pest Manager of the Year four times in the past six years. When you employ our services, you know your pest problem will soon be a distant memory. What could be more satisfying than that?

*Please contact us to hear more about our 200% Money Back Guarantee - as due to issues sometimes outside our control, not all services may be covered by this offer.
Talk to us about pest control for your home or business