CPS Sales Conference and Celebration Day
---
On September 1st and 2nd 2022, Competitive Pest Services held our conference where the whole CPS team comes together to touch base, learn and train, and set future goals to further the company.
Day 1, we held our Sales Conference and our Tech Training Day. The sales team set business goals for the next five years while our technicians had training day where we had key speakers come in from leading companies in the industry to speak about the newest techniques in pest control and management. Speakers included a representative from Sundew who came to train and teach us about European wasps, Andrew Glenn from BASF brought us up to date about the latest termite barrier treatments, and last but not least, a representative spoke to us about profitability in the pest control industry.
Day 2 was our National Conference and Celebration Day! Coming together is already a reason to celebrate but this conference we had something extra special to celebrate: Competitive Pest Services is officially the first 100% Australian-Owned and privately owned pest control company in Australia! We now service all major cities in the country, which is a huge feat for a company that started as a one-man operation.
We started out the day in style with a champagne breakfast catered at the CPS Sydney office, followed by an awards ceremony to recognize outstanding work from the team. The Best Technician award went to Kobe Thuta. The Admin Superstar award to Aye Chang Aung. Most Valuable Team Player Awards to Shaun Daley-Plassan and Oliver Robbins. Of course, the award for Best Banter went to Ryan "The Captain" Humphris and also the award for Highest Sales to boot
Some more awards to commemorate our technicians – Richard Brewer and Ahmad El Arja for receiving 100% on their Mystery Shop runs, Kobe Thuta and Royce Collins for the Highest Onsite QA, Royce Collins again for Highest Commercial Leads Submitted, Ben Larsen for the Highest Commercial Leads Converted, and Nicholas James for the Highest Residential Upsells!
Now, being a technician isn't all fighting and managing pests – you also become quite the sufficient driver. The award of the Most KM's Travelled went to none other than CPS' Quality Manager, Anthony Felton.
Last but certainly not least, an award to commemorate the fact that CPS wouldn't be CPS without all the star contributors that have been with us for years – a Special Long Service Award went to CPS' Commercial Customer Service Manager, Emile Sadd, for 5 years of service, along with a Watch from CPS' Director, Gary Journeaux and CPS as a thank you.
After the Award Ceremony around 9:45AM, the CPS team was picked up from the office in hot pink and black stretch Hummers. That's when the party really started! First, we were escorted to the first event of axe throwing at Kiss My Axe in Alexandria.
The whole team had great fun, throwing axes at targets with all our might and hoping they stick. The amazing staff at Kiss My Axe hyped us up and instigated a bit of competition to see who would be crowned axe-throwing King or Queen! It came down to two mighty leaders, Adam Davis, our South Australia based technician and Dwayne Martin, our New South Wales based technician. It was a close call but ultimately, Dwyane came out the winner as the Axe King!
Drained by the strenuous physical activity, the CPS team headed to an Italian restaurant in Darling Harbour for a recharge. It was a great chance to have a drink and catch up with everyone in the team from interstate and NSW.
Overall, the two days were a great success and something we hope to do every year to celebrate CPS and get all of our Australian staff together in one place.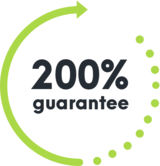 WE'RE NOT HAPPY UNLESS YOU'RE HAPPY
SEE HOW IT WORKS
With Competitive Pest Control Services you'll never have to worry about paying for a job that hasn't been done.

If you're not satisfied with our services, we'll not only give you your money back, we'll return it to you twofold. That's right: you'll not only receive a full refund, we'll also pay to have your pest problem sorted by our competition.*

We're always trying to raise the standard of service, it's one of the reasons we were name Australian Pest Manager of the Year four times in the past six years. When you employ our services, you know your pest problem will soon be a distant memory. What could be more satisfying than that?

*Please contact us to hear more about our 200% Money Back Guarantee - as due to issues sometimes outside our control, not all services may be covered by this offer.
Talk to us about pest control for your home or business