5 Minutes with Beth
---
What do you do for fun outside of work?
On weekends you can catch me in Bunnings fueling my houseplant addiction, enjoying long walks, scoping out the best burger joints, knocking back cocktails and playing darts.
What is your dream holiday?
I'd love to visit New Zealand and got to Hobbiton, Fiji also looks stunning.
What is your biggest fear?
Biggest fear has to be spiders, cliché I know, but when they're chunky enough to have knees, I can't stand them.
What is your favourite meal?
Favourite meal, this is a tough one as I absolutely love food. I would probably have to go with BL Burgers (if you haven't tried their burgers before, you are seriously missing out).
What is one thing you can't live without?
My other half, Steve.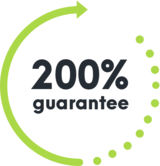 WE'RE NOT HAPPY UNLESS YOU'RE HAPPY
SEE HOW IT WORKS
With Competitive Pest Control Services you'll never have to worry about paying for a job that hasn't been done.

If you're not satisfied with our services, we'll not only give you your money back, we'll return it to you twofold. That's right: you'll not only receive a full refund, we'll also pay to have your pest problem sorted by our competition.*

We're always trying to raise the standard of service, it's one of the reasons we were name Australian Pest Manager of the Year four times in the past six years. When you employ our services, you know your pest problem will soon be a distant memory. What could be more satisfying than that?

*Please contact us to hear more about our 200% Money Back Guarantee - as due to issues sometimes outside our control, not all services may be covered by this offer.
Talk to us about pest control for your home or business