Bed Bugs Now Resistant To Pesticides
---
Bed bugs are developing resistance to the chemicals used to treat them, reported Business Insider.
Bed Bugs becoming resistant to more pesticides
Researchers have identified a collection of 14 genes responsible for the emerging immunity. The genes are active in the insect's exoskeleton rather than the digestive tract. As they only drink blood, the exoskeleton is usually the only part of them that comes into contact with current chemical treatments.
Researchers used RNA fragments to deactivate the defensive genes in lab bed bugs. This caused the insects to lose their immunity. However, their genetic alterations were not transmitted to future generations.
Based on these findings, scientists will need to develop new ways to target one of humanity's most deeply-rooted pests.
Pest control techniques may include chemicals to inhibit the insect's genetic defenses and cope with detoxifying activity that occurs in the exoskeleton. Researchers say the high number of genes involved in resistance makes this a very difficult problem to tackle.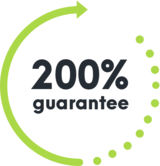 WE'RE NOT HAPPY UNLESS YOU'RE HAPPY
SEE HOW IT WORKS
With Competitive Pest Control Services you'll never have to worry about paying for a job that hasn't been done.

If you're not satisfied with our services, we'll not only give you your money back, we'll return it to you twofold. That's right: you'll not only receive a full refund, we'll also pay to have your pest problem sorted by our competition.*

We're always trying to raise the standard of service, it's one of the reasons we were name Australian Pest Manager of the Year four times in the past six years. When you employ our services, you know your pest problem will soon be a distant memory. What could be more satisfying than that?

*Please contact us to hear more about our 200% Money Back Guarantee - as due to issues sometimes outside our control, not all services may be covered by this offer.
Talk to us about pest control for your home or business