Canadian Mayor Dies After Wasp Attack
---
51 year old Lucie Roussel, the mayor of a community just outside Montreal, died on Sunday, 27 July of anaphylactic shock after being attacked by wasps while on vacation. She has been serving as mayor of La Prairie since 2003.
According to a spokeswoman for La Prairie, the mayor was not allergic to wasps. However, she was attacked by 15 of them.
Several politicians expressed their condolences. Amongst them was the Mayor of Montreal, Denis Coderre, who tweeted about it. Funeral arrangements have not yet been announced.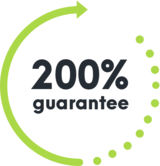 WE'RE NOT HAPPY UNLESS YOU'RE HAPPY
SEE HOW IT WORKS
With Competitive Pest Control Services you'll never have to worry about paying for a job that hasn't been done.

If you're not satisfied with our services, we'll not only give you your money back, we'll return it to you twofold. That's right: you'll not only receive a full refund, we'll also pay to have your pest problem sorted by our competition.*

We're always trying to raise the standard of service, it's one of the reasons we were name Australian Pest Manager of the Year four times in the past six years. When you employ our services, you know your pest problem will soon be a distant memory. What could be more satisfying than that?

*Please contact us to hear more about our 200% Money Back Guarantee - as due to issues sometimes outside our control, not all services may be covered by this offer.
Talk to us about pest control for your home or business