Chemically Treating for Termites? Take these Steps to Keep Safe
---
Chemically treating a termite problem can be a major undertaking
Tenting a home means that the residents and all animals and plants are removed from the property for at least two days. A potent gas, sulfuryl fluoride, is then applied to the home to kill termites and other pests. As the gas has no odour, tear gas is added to help keep people and animals away.
To prepare for the procedure, satellite dishes and antennae also need to be removed.
An 18 inch zone around the home should then be cleared so that the tent that seals the property can be erected. Because there is usually some leakage, there's a risk that plants near the tent could still be killed or harmed by the gas.
Any food in the home that is not tightly sealed or packed should be removed. This includes food in the fridge or freezer.
Anything in the bathroom that enters the mouth such as toothpaste or brushes should also be taken away.
Source: http://jacksonville.com/entertainment/home-and-garden/2013-08-17/story/raising-tent-your-home-bring-battle-termites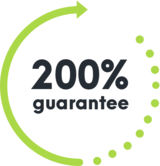 WE'RE NOT HAPPY UNLESS YOU'RE HAPPY
SEE HOW IT WORKS
With Competitive Pest Control Services you'll never have to worry about paying for a job that hasn't been done.

If you're not satisfied with our services, we'll not only give you your money back, we'll return it to you twofold. That's right: you'll not only receive a full refund, we'll also pay to have your pest problem sorted by our competition.*

We're always trying to raise the standard of service, it's one of the reasons we were name Australian Pest Manager of the Year four times in the past six years. When you employ our services, you know your pest problem will soon be a distant memory. What could be more satisfying than that?

*Please contact us to hear more about our 200% Money Back Guarantee - as due to issues sometimes outside our control, not all services may be covered by this offer.
Talk to us about pest control for your home or business