Combating Carpet Beetles
---
Carpet beetles are difficult to remove without the help of a pest control expert.
If larvae are found, it's likely that the pest has been in the home for some time, which could mean an infestation has occurred. The beetle larvae enjoy consuming carpet fibres and other fabrics around the home.
The carpet beetle is around one eighth to one quarter of an inch in length and looks like a small furry worm.
If they are found, any infested rugs or clothes should be thrown away and remaining property should be thoroughly washed. The home should be vacuumed and cleaned meticulously, particularly in areas that they could hide in such as in the pantry or behind the fridge.
If this fails, a professional should be brought in. Pest controllers can employ chemical or non-chemical treatments to deal with the problem. One approach is to steam heat the interior of the home to 130 degrees for four hours in order to kill the pest.
An expert can also help find the source of the infestation and help prevent future outbreaks from occurring.
Source: http://www.sacbee.com/2013/08/26/5681141/ask-angie-how-to-eliminate-carpet.html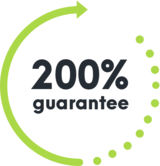 WE'RE NOT HAPPY UNLESS YOU'RE HAPPY
SEE HOW IT WORKS
With Competitive Pest Control Services you'll never have to worry about paying for a job that hasn't been done.

If you're not satisfied with our services, we'll not only give you your money back, we'll return it to you twofold. That's right: you'll not only receive a full refund, we'll also pay to have your pest problem sorted by our competition.*

We're always trying to raise the standard of service, it's one of the reasons we were name Australian Pest Manager of the Year four times in the past six years. When you employ our services, you know your pest problem will soon be a distant memory. What could be more satisfying than that?

*Please contact us to hear more about our 200% Money Back Guarantee - as due to issues sometimes outside our control, not all services may be covered by this offer.
Talk to us about pest control for your home or business