Controlling Pests Without Chemicals
---
Food premises must be free of pets such as mice, rats and cockroaches in order to operate legally.
Unfortunately, many chemical treatments used to achieve this are toxic to human health and can quite easily contaminate nearby food.
How to get rid of household pests without chemicals?
However, there are a variety of non-toxic pest control methods that businesses can use.
Mouse Traps
New electronic mouse traps kill rodents and notify the business owner that the kill has occurred, allowing them to quickly remove the decaying body before it starts to pose a health risk.
Sprays
New carbon-dioxide sprays are also available that freeze insects without leaving a toxic residue.
Web Monitoring
Web based reporting tools are also useful and now allow pest controllers to more quickly inform clients about pest issues they need to know about. This reduces the amount of in-person checking that needs to be done by the client to know the progress of their pest control measures.
While organic producers spearheaded the move towards non-toxic pest control methods, other organisations are now following suit. European companies are leading the way, spurred on by strict legislation and penalties.
Source: http://www.foodmag.com.au/news/chemical-free-pest-control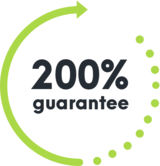 WE'RE NOT HAPPY UNLESS YOU'RE HAPPY
SEE HOW IT WORKS
With Competitive Pest Control Services you'll never have to worry about paying for a job that hasn't been done.

If you're not satisfied with our services, we'll not only give you your money back, we'll return it to you twofold. That's right: you'll not only receive a full refund, we'll also pay to have your pest problem sorted by our competition.*

We're always trying to raise the standard of service, it's one of the reasons we were name Australian Pest Manager of the Year four times in the past six years. When you employ our services, you know your pest problem will soon be a distant memory. What could be more satisfying than that?

*Please contact us to hear more about our 200% Money Back Guarantee - as due to issues sometimes outside our control, not all services may be covered by this offer.
Talk to us about pest control for your home or business