Different Cockroaches Need Different Treatment
---
Types of Cockroaches:
Pest controllers and homeowners need to understand different cockroaches and treat them differently in order to control them. Here are some of the more common varieties that you might encounter:
1. American Cockroaches:
American cockroaches can colonise any urban environment in their search for food.
2. Australian Cockroaches:
Australian cockroaches seek out vegetarian food such as plants. They can destroy seedlings in a greenhouse and once inside can develop an appetite for pet food and other food around the house.
3. Brown-banded Cockroaches:
These cockroaches lay their eggs in difficult to reach places around the home. It's important to check shelves, closets and curtains for signs of their eggs. They need to be eliminated early or they can overrun a property. They can also fly.
American, Australian and Brown-banded species tend to spend more time indoors rather than outdoors and treatment efforts should be focused there.
4. Wood Cockroaches:
In contrast, Wood cockroaches need to spend part of their lifecycle outdoors surviving in piles of firewood and other exterior structures. Wood cockroaches should therefore be combated with treatment that destroys their outdoor living areas.
Source: http://www.mypmp.net/2008/12/05/different-species-require-a-different-approach/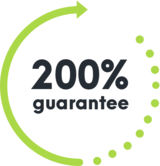 WE'RE NOT HAPPY UNLESS YOU'RE HAPPY
SEE HOW IT WORKS
With Competitive Pest Control Services you'll never have to worry about paying for a job that hasn't been done.

If you're not satisfied with our services, we'll not only give you your money back, we'll return it to you twofold. That's right: you'll not only receive a full refund, we'll also pay to have your pest problem sorted by our competition.*

We're always trying to raise the standard of service, it's one of the reasons we were name Australian Pest Manager of the Year four times in the past six years. When you employ our services, you know your pest problem will soon be a distant memory. What could be more satisfying than that?

*Please contact us to hear more about our 200% Money Back Guarantee - as due to issues sometimes outside our control, not all services may be covered by this offer.
Talk to us about pest control for your home or business