Fight Back Against Household Creepy Crawlies
---
It's never pleasant finding an insect or two sneaking around your home – and you know that if you've found one there are many more that you can't see! But what can you do t get rid of the critters?
How to get rid of creepy crawlies in the house?
The Fiji Times Online gave some tips on keeping unwanted insects at bay.
Cockroaches
Do a big cleanup and get rid of any clutter that the cockroaches will call home.
Spills should be wiped up immediately and the space under freezers and sinks should be kept clean.
In particular, food spills should be carefully avoided at night as this is when cockroaches are most active.
Food should be stored securely before being stored.
Bedbugs
The luggage of all visitors should be checked carefully.
Take a good look at your own luggage when you return home from a trip.
If bedbugs are found on a mattress it should be left out in the sun along with nearby bags to kill the insects.
Centipedes
Rubbish needs to be stored and disposed off properly, especially if it's being kept in a dark or damp area.
All entry points to the home, such as exposed pipes or sinks should be washed with soapy water.
All bedding should be checked at night and if a serious infestation is detected, a pest control company should be called as soon as possible.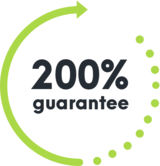 WE'RE NOT HAPPY UNLESS YOU'RE HAPPY
SEE HOW IT WORKS
With Competitive Pest Control Services you'll never have to worry about paying for a job that hasn't been done.

If you're not satisfied with our services, we'll not only give you your money back, we'll return it to you twofold. That's right: you'll not only receive a full refund, we'll also pay to have your pest problem sorted by our competition.*

We're always trying to raise the standard of service, it's one of the reasons we were name Australian Pest Manager of the Year four times in the past six years. When you employ our services, you know your pest problem will soon be a distant memory. What could be more satisfying than that?

*Please contact us to hear more about our 200% Money Back Guarantee - as due to issues sometimes outside our control, not all services may be covered by this offer.
Talk to us about pest control for your home or business