Getting Rid of Bed Bugs
---
People need to take a range of steps to rid their home of bed bugs.
Hiding in beds and small cracks in flooring, bed bugs attack at night and can cause irritation and swelling. They usually grow to around a quarter of an inch in length and turn black after feasting on a person's blood.
Where Do Bed Bugs Hide?
The first step to getting rid of them is to collect all sheets and blankets in the home and wash them in hot water mixed with bleach. The mattress, walls and floor around the bed should be carefully vacuumed to collect remaining bugs and larvae.
The bedroom should then be inspected for any sign of the bugs. Curtains, draws and cupboards should be closely checked.
A reliable, safe insecticide should then be used to treat at-risk areas of the home.
If these measures fail, it's worthwhile calling in a professional pest controller to deal with the problem.
Source: http://www.tele-management.ca/2013/07/killing-pests-how-to-get-rid-of-bed-bugs/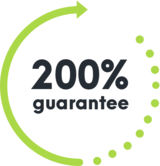 WE'RE NOT HAPPY UNLESS YOU'RE HAPPY
SEE HOW IT WORKS
With Competitive Pest Control Services you'll never have to worry about paying for a job that hasn't been done.

If you're not satisfied with our services, we'll not only give you your money back, we'll return it to you twofold. That's right: you'll not only receive a full refund, we'll also pay to have your pest problem sorted by our competition.*

We're always trying to raise the standard of service, it's one of the reasons we were name Australian Pest Manager of the Year four times in the past six years. When you employ our services, you know your pest problem will soon be a distant memory. What could be more satisfying than that?

*Please contact us to hear more about our 200% Money Back Guarantee - as due to issues sometimes outside our control, not all services may be covered by this offer.
Talk to us about pest control for your home or business