Home Maintenance Crucial For Controlling Pests
---
Mosquitoes, ants, ticks and other pests start to gain momentum as the weather heats up, but some simple home maintenance can help keep them at bay.
Mosquitoes
The best way to control mosquitoes is to control their breeding grounds. These potentially lethal insects can breed in as little as a teaspoon of still water. To prevent them from colonising your home gutters and drains should be cleared. Old buckets, tyres and other junk that collect water in the garden should be thrown away.
Ticks and rats
Gardens should be kept clear and free of weeds and large grassy patches. This will give ticks and rodents fewer areas to hide. Animal faeces can also attract rodents so remember to clean up after your pets.
Ants and termites
It's important to clear away decaying wood and store firewood away from the home to help repel termites. Any termite damage should be identified early before it's too late. Surfaces should be kept clean and food put away in order to keep ants away. While chemicals can kill them, it's more important to eliminate their food source to stop them coming back.
Source: www.washingtonpost.com/blogs/where-we-live/wp/2013/06/05/home-maintenance-can-keep-those-pests-away/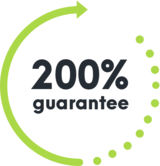 WE'RE NOT HAPPY UNLESS YOU'RE HAPPY
SEE HOW IT WORKS
With Competitive Pest Control Services you'll never have to worry about paying for a job that hasn't been done.

If you're not satisfied with our services, we'll not only give you your money back, we'll return it to you twofold. That's right: you'll not only receive a full refund, we'll also pay to have your pest problem sorted by our competition.*

We're always trying to raise the standard of service, it's one of the reasons we were name Australian Pest Manager of the Year four times in the past six years. When you employ our services, you know your pest problem will soon be a distant memory. What could be more satisfying than that?

*Please contact us to hear more about our 200% Money Back Guarantee - as due to issues sometimes outside our control, not all services may be covered by this offer.
Talk to us about pest control for your home or business