The most annoying hotel pests and how to stop them
---
The experience of your guests is all that matters.
What they say about the time they've spent at your hotel determines your reputation and therefore your success. If pests have invaded your property and are taking up residence in your rooms though, can you really expect people to book with you?
In our 25 years' of experience working for both boutique stays and chain hotels throughout Australia, we've seen how pests can devastate even the most well-regarded establishments. No one wants to witness rats scurrying through the dining room, cockroaches in the hallways or swarms of flies buzzing around the kitchen!
It nearly goes without saying that the presence of insects, bugs and rodents in your hotel is a massive turnoff. Worse yet, by the time a guest has spotted or encountered a pest, it's already too late. If or when this happens, you can then expect a torrent of negative reviews that could very well sink your business.
Pest control for hotels is therefore vital to ensuring that your property is protected from unwanted visitors. At Competitive Pest Services, we're able to carry out discreet, prompt and effective pest management solutions to eradicate annoying hotel pests for good.
A breeding ground for bugs and insects
Don't get us wrong… hotels face an enormous task when it comes to keeping bothersome hotel pests at bay.
Hospitality businesses are often located in high-density areas. People are also always coming and going at all hours of the day with their personal belongings in tow. It's alarming how quickly pests can take hold in these types of environments, which makes early pest control for hotels even more important.
Stoping hotel pests: a collaborative effort
The only way to prevent pest problems in your hotel is to ensure you have a thorough and effective pest management plan in place. Here at Competitive Pest Services, we specialise in helping businesses just like yours defend their property, their guests and their bottom line.
Our experts will undertake a thorough check of your hotel and design a plan tailored to your building, location and situation. For us, prevention is always better than a cure. Our first quote is also free of charge, so you have nothing to lose by calling us in. In fact, by scheduling an appointment with us now, you could potentially save yourself thousands of dollars in lost business or repairs in the future.
Protecting your clientele and your reputation is possible. All you need is a pest control team for your hotel that actually listens to your needs. Our goal is to build a relationship between yourself and our technicians so we can better treat the issues at hand. Together, we can turn any outright disaster into a happily ever after for both you and your guests.
Common hotel pests found in Australia
Here are some of the most common hotel pests that the Competitive Pest Services team often encounter when carrying out pest control solutions for hotels.
Cockroaches
They're creepy, dirty and out to cause trouble.
Worst yet, if you spot one cockroach scuttling from door to door in a hotel hallway, you can guarantee there are plenty of others lurking nearby.
With many hotels offering room service and snacks, cockroaches can be found scooping up the crumbs in bedrooms as well as in kitchens and breakrooms. At CPS, we're able to eliminate cockroaches in your hotel or prevent them from ever gaining a foot (or claw) hold on your property.
Bed bugs
Bed bugs are public enemy number one when it comes to pest control in hotels.
They are hard to spot and even the most seasoned custodians or cleaning staff will have trouble correctly identify the signs of a bed bug invasion… until it's too late.
Guests who are attacked by bed bugs may cause a scene, which can quickly lead to outright panic and an eventual loss of business. Our professionals will identify all rooms that have been compromised by bed bugs and treat the problem swiftly and safely.
Rodents (rats and mice)
There's no getting around it; if you have rodents in your hotel, you need professional pest control assistance.
Besides the fact that they contaminate food and practically any surface they come into contact with, they also damage equipment, wiring and fixtures if left untreated. In addition, rodent populations can balloon in a matter of weeks, which makes quick action all the more important.
To safeguard your guests from food poisoning and prevent costly repairs, contact CPS immediately before they have a chance to spread and cause real problems.
Small flies
Both house and blowflies require decayed or decaying matter to feed and breed on. When this can't be found outdoors, flies will migrate indoors in search of garbage, rooting food or even faeces.
Flies are attracted to all foods, but especially sugary or sweet foods, which they will eat, regurgitate and even defecate on – all in a single sitting! Combine their almost unrivalled ability to contaminate food with the fact that they carry harmful pathogens such as E. coli and it's obvious why flies are such a problem for hospitality business owners.
If you witness flies in your hotel bar area, buffet, restaurant, food delivery area or lobby, your best chance at getting rid of them is to get in touch with Competitive Pest Services. For hotel pest control solutions that you can trust.
Other bothersome hotel pests
In addition to cockroaches, rodents, bed bugs and flies, there are a host of other potentially damaging hotel pests for you to consider.
Birds such as pigeons and gulls, for example, can leave droppings on the exterior of your hotel. These droppings can then become a major cosmetic issue and even a slip hazard if they're left to accumulate in pool areas or on balconies.
Spiders are another bothersome hotel pest that can cause problems within your establishment. Guests may be startled by the sight of a spider in their room. There's even the possibility that they could be bitten. Of course, spider bites are rare, but the last thing you need is a guest raising the alarm about spiders in your hotel… especially if you have a lot of international visitors.
Nip hotel pest problems in the bud – call CPS today on 1300 766 614 for a free quote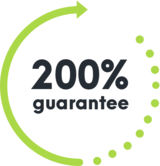 WE'RE NOT HAPPY UNLESS YOU'RE HAPPY
SEE HOW IT WORKS
With Competitive Pest Control Services you'll never have to worry about paying for a job that hasn't been done.

If you're not satisfied with our services, we'll not only give you your money back, we'll return it to you twofold. That's right: you'll not only receive a full refund, we'll also pay to have your pest problem sorted by our competition.*

We're always trying to raise the standard of service, it's one of the reasons we were name Australian Pest Manager of the Year four times in the past six years. When you employ our services, you know your pest problem will soon be a distant memory. What could be more satisfying than that?

*Please contact us to hear more about our 200% Money Back Guarantee - as due to issues sometimes outside our control, not all services may be covered by this offer.
Talk to us about pest control for your home or business