How a Termite Inspection Works for Controlling Termites in Australia
---
Homeowners should book regular termite inspections to see if their property is at risk of infestation, advised to pestcontrol.org.au.
What happens during a termite inspection?
A professional termite inspector will look at your home and most likely tap and inspect walls, foundations and more to check for signs of termites. The inspector will help to inform the home owner about steps they need to take to keep their home termite free. Specialised technology including moisture meters and thermal and microwave imagers are used to scope out if a problem exists and, if there is one, the extent of that problem.
How much does it cost?
Usually an inspection will cost around $250 to $300 for an average size home.
Will insurance cover any damage found?
General home insurance usually does not cover termite damage to structural timber. However, termite insurance can be obtained if chemical treatment is applied to the soil and appropriate parts of the flooring. The termite controller must have indemnity insurance.
What happens if I have termites?
If live termites are found in the home, baiting should be conducted before any soil treatment occurs. It's likely that the termite colony can be eliminated using baiting. Termites establish a central colony that all the members return to periodically so an effective baiting program will ensure that the poisons are delivered back to this central colony.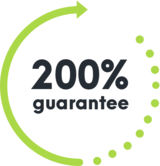 WE'RE NOT HAPPY UNLESS YOU'RE HAPPY
SEE HOW IT WORKS
With Competitive Pest Control Services you'll never have to worry about paying for a job that hasn't been done.

If you're not satisfied with our services, we'll not only give you your money back, we'll return it to you twofold. That's right: you'll not only receive a full refund, we'll also pay to have your pest problem sorted by our competition.*

We're always trying to raise the standard of service, it's one of the reasons we were name Australian Pest Manager of the Year four times in the past six years. When you employ our services, you know your pest problem will soon be a distant memory. What could be more satisfying than that?

*Please contact us to hear more about our 200% Money Back Guarantee - as due to issues sometimes outside our control, not all services may be covered by this offer.
Talk to us about pest control for your home or business