How much does a pest control inspection cost?
---
The price of a pest control inspection is a concern and repeatedly asked question for many home and business owners who are trying to prevent or remove pests from their properties professionally. There is a large range of factors that can drive or lower the cost of an inspection here are some examples that will affect price:
Type of treatment – The sort of treatment needed to stop a pest problem will correlate to the costs of the pest control service. Example being, using somewhat basic insecticide sprays to control bed bugs is much different than using a chemical free heat pod treatment to get rid of them and therefore the price will show that. Also, the pricing for preventive measures for pest control varies from the cost of corrective, reactive treatments.
Size of property – Property size is a big factor when calculating the price of a of a pest control service. The bigger the property usually means a bigger problem needing more time to successfully treat a pest problem. This therefore will have a direct effect on the cost of the treating the pest issue.
Type of pest – The type of pest which is affecting your property will contribute to the price of the removal service. The cost of eliminating cockroaches may be somewhat simple compared to eliminating rodent pests as a different method will be needed.
Size of infestation – The size and density of a pest problem in your property affects the costs of the pest removal service. For example, removing a large, established ant colony will take longer and cost much more than eliminating a small, contained ant problem that is treated quickly.
How often should pest control be done?
This is an extremely important question for preventing unwanted visitors into your place of work or home. There isn't a particular rule of thumb here but when by your local Competitive Pest Services crew conduct a survey, they will be sure to professionally recommend the visits needed to resolve or prevent the issue according to their assessment criteria. This assessment is based on different factors of course much like the ones we mentioned earlier such as size of infestation, type of pest, property size etc.
Prevention is better than cure
When it comes to unwanted guests prevention is always better then cure, regular pest control will help keep your costs low when solving the issue and also help keep pests at bay, how can I do this? You may ask. Try and keep a look out for the following places and try mitigating any damage before it occurs. This list below shows regular locations that pests are often found by our Competitive Pest Services Team
⦁ Pipes and drains
⦁ Kitchen cabinets (especially under the sink)
⦁ Rubbish bins
⦁ Storage rooms
⦁ Garages
⦁ Bedroom closet
⦁ Woodsheds
⦁ Roof cavity/ceiling
Inspections for cockroaches
The scale of an infestation in your home kitchen will be different from a restaurant which will be different from an infestation in a factory so this will affect the effort and time put into the inspection and potentially therefore will impact the price.
Inspecting your yard for mosquitoes
Normally mosquitoes are best controlled at their breeding source, pest control technicians can help find the locations and propose the best ways to reduce activity. This means that you can help prevent future issues with pests arising and you can enforce to some extent your own regular pest control.
Termite inspections
Termites are a different case. Because they hide inside the wood or underground, you can't guarantee their presence will be detected in a one-time free inspection. A regular schedule of inspections is recommended and there are even further monitoring options which can help detect termite activity such as "in-ground termite bait stations".  Because of the work involved in thorough professional termite inspections, these normally incur a cost depending on the level of inspection whereas other pest inspections are often free of charge.
Keep your storage clean and tidy – 
Rodents such as mice for example can use shredded paper as a nest! Insects such as weevils, moths etc. better known as SPIs (Stored product insects) will actively destroy and chew through file boxes or other storage room goods. Therefore it is absolutely essential to keep these rooms clean and tidy and why nipping these small pest invasions in the bud is so important.
Defeat common pests by booking a pest inspection with CPS today – phone 1300 766 614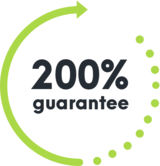 WE'RE NOT HAPPY UNLESS YOU'RE HAPPY
SEE HOW IT WORKS
With Competitive Pest Control Services you'll never have to worry about paying for a job that hasn't been done.

If you're not satisfied with our services, we'll not only give you your money back, we'll return it to you twofold. That's right: you'll not only receive a full refund, we'll also pay to have your pest problem sorted by our competition.*

We're always trying to raise the standard of service, it's one of the reasons we were name Australian Pest Manager of the Year four times in the past six years. When you employ our services, you know your pest problem will soon be a distant memory. What could be more satisfying than that?

*Please contact us to hear more about our 200% Money Back Guarantee - as due to issues sometimes outside our control, not all services may be covered by this offer.
Talk to us about pest control for your home or business