How to get rid of Ants – 7 Home Remedies
---
Let's face it, ants in your house can be a big nuisance. It's not only frustrating to have ants running around, but a colony of ants can actually cause a lot of damage as well. It is pretty unhygienic to have ants inside your home. Some ant varieties like Fire and Harvester can even bite humans. Carpenter ants, on the other hand, are known to damage building materials. Ants inside the house certainly contaminate the food. They carry bacteria which they can transfer to food or an open wound. Ants have a diverse family; they are around 12,000 different varieties of ants. We all hate how ants enter our houses, especially in summers. They live in our house like they own it; well there are some ways that may help to get rid of the ants; one of them is to keep your house absolutely clean. We suggest some amazing home remedies that you'd need right now to ensure there are no ants in your house. Here's how to get rid of ants at home, without the use of ant bait.
1. Peppermint
Peppermint is an insect repellent, which can help you know how to get rid of ants. Ants don't like the smell of peppermint and are likely to avoid areas that contain traces of it. Peppermint has a strong fragrant that cannot be tolerated by the ants, which keep them away from entering the home. Prepare a mixture of 10 drops of peppermint essential oil and a cup of water and sprinkle it wherever you find ants. Repeat this twice a day. You can even sprinkle dried peppermint instead of the liquid mixture.
2. Chalk
One of the home remedies to get rid of ants is to use chalk. Chalk contains calcium carbonate, which helps in keeping ants away. Spray some powdered chalk in the areas that are the entry points of ants or draw a line of chalk at the entrance. In order to keep ants of your house, draw chalk lines so that these bugs don't enter. While it not clear as to why this line stops the ants from coming inside, but it is surely effective. Make sure you make the line in a way that is out of reach of any child in the house.
3. Citrus Fruits
Squeeze a lemon or place lemon peels in places from where the ants enter. You can also wash your floors with water that has a little lemon juice added to it. Ants apparently don't like the smell of lemon juice so they will keep away. Anything sour and bitter may keep the ants away, but any sugar is ants' best friend. So ensure you do not keep anything sweet that may attract the ants in some way or the other. Keep your kitchen slab absolutely clean and place the peels right there. Oranges are same as lemons; they keep the ants away from visiting your house. Make a paste of one cup warm water and a few orange peel, which will help get rid of ants. Spread this paste around entry points of ants and wipe it afterwards. You can also place orange peels on the kitchen slab or wherever you think these ants may enter from. It acts as natural deterrent for ants that may not only keep them but also keep them away. So, bring the orange rinds to some use and ensure no ants visit your house anymore.
4. Cut of their food source
Eliminating the problem before it starts is the best way to get rid of ants. You can do this by making sure you have no food sources readily available for them. This will entail keeping food tightly sealed in containers or plastic bags. Keep in mind that ants are attracted to sweet and starchy things like sugar, honey, and cornmeal You'll also have to be vigilant about cleaning up crumbs from your home. Don't forget to clean: under and around standing appliances in your kitchen, in couch cushions and garbage pails, areas of the home where your family eats or prepares food Pet food can also attract ants. Remove pet bowls as soon as your pet has finished eating. Give the bowls a rinse to eliminate the scent of the food.
5. Boric Acid
Boric acid is a type of poison, which has been used successfully to get rid of ants for many years by killing worker ants and their queen within 3 weeks of exposure. It does this by eroding their outer shells and stomachs. It's very important to keep boric acid away from pets and children and to wear gloves while you're working with it. Most basic boric acid recipes to treat ants include the following directions:
Make a solution of 1/2 teaspoon boric acid, 8 teaspoons sugar, and 1 cup of warm water.
Stir until the sugar and boric acid are completely dissolved. Saturate cotton balls and place around your home in areas where you've seen ants.
You can also leave the mixture out in containers. After use, wash containers thoroughly or discard.
You can also use boric acid as an ingredient in DIY ant traps. Mix the powder with something sweet that will attract ants, such as maple syrup or corn syrup. Spread on a flat, disposable surface, like cardboard, and place in areas where you see ants.
6. Cinnamon
Put cinnamon and cloves on the entrance of the house and the areas from where you think that ants may be able to enter your property. This a good method to also keep your house smelling fresh and earthy. Cinnamon is often regarded as an effective ant control option. It is believed that cinnamon acts as a natural repellent as ants can't stand strong smell. For more effective results, you can add some essential oil to the cinnamon powder, so that is busts with stronger smell, this is a great way to get rid of ants.
7. White Vinegar
Ants can't bear the smell of white vinegar. Prepare a solution of equal amounts of water and white vinegar. Add a couple drops of essential oil to it and shake well. Store this solution and sprinkle it at the points from where the ants enter. Repeat this once a day. Again, this solution may not kill the ants, but definitely keep them away from entering the no-entering zone. Spray it around your windowsills, doorways and other places where you usually see ants coming.
When to call a professional
If there have been multiple or separate occurrences of ant infestation, and you still wonder how to get rid of ants it's time to call an exterminator. If ants continue to return, even after multiple DIY treatments, something isn't working. Calling a licensed professional is the best way to treat the problem, and they can also give advice on how to prevent ant infestations in the future. This will not only save you time but it will also save you money, which lets face it is a win, win. As we know prevention is always better than the cure so make sure to do your due diligence when you find yourself up against an army of ants in your home.
Here at Competitive Pest Services, we have 25 years of experience and have won the the award for Australia's Best Pest Control Service – FOUR times over. We offer Pest Control Services in Sydney, Melbourne, the Gold Coast, Sydney's Northern Beaches, as well as Pest Control Services in Brisbane. Get in touch today by calling our friendly expert team on 1300 766 614.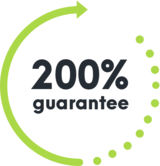 WE'RE NOT HAPPY UNLESS YOU'RE HAPPY
SEE HOW IT WORKS
With Competitive Pest Control Services you'll never have to worry about paying for a job that hasn't been done.

If you're not satisfied with our services, we'll not only give you your money back, we'll return it to you twofold. That's right: you'll not only receive a full refund, we'll also pay to have your pest problem sorted by our competition.*

We're always trying to raise the standard of service, it's one of the reasons we were name Australian Pest Manager of the Year four times in the past six years. When you employ our services, you know your pest problem will soon be a distant memory. What could be more satisfying than that?

*Please contact us to hear more about our 200% Money Back Guarantee - as due to issues sometimes outside our control, not all services may be covered by this offer.
Talk to us about pest control for your home or business