Labrador Helps Beat Bed Bugs
---
While bed bugs may be spreading, a local business has found that canine help can combat the problem.
How to Labrador Sniff & Detect Bed Bugs?
More traditionally associated with drug busts, dogs are now being trained by the local pest controller to identify live bed bug infestations in businesses in the North Dakota, Minnesota and surrounding areas.
Local labrador, Karley was trained by Scent Detection Systems to find the tiny creatures and now works in hotels, homes and medical facilities.
The company said the dogs are more reliable than humans in detecting a bed bug problem. Dogs are able to identify bed bugs in 90% of cases, while humans trained in detecting them are more likely to strike a 30% to 40% success rate.
Karley was trained using a bag of live bed bugs, with a tennis ball being offered as a reward. After she's detected bed bugs, pest controllers need to be called in separately to eliminate them. She can also only detect live bed bugs but so far has a 100% success rate.
Source: www.wday.com/event/article/id/83142/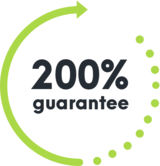 WE'RE NOT HAPPY UNLESS YOU'RE HAPPY
SEE HOW IT WORKS
With Competitive Pest Control Services you'll never have to worry about paying for a job that hasn't been done.

If you're not satisfied with our services, we'll not only give you your money back, we'll return it to you twofold. That's right: you'll not only receive a full refund, we'll also pay to have your pest problem sorted by our competition.*

We're always trying to raise the standard of service, it's one of the reasons we were name Australian Pest Manager of the Year four times in the past six years. When you employ our services, you know your pest problem will soon be a distant memory. What could be more satisfying than that?

*Please contact us to hear more about our 200% Money Back Guarantee - as due to issues sometimes outside our control, not all services may be covered by this offer.
Talk to us about pest control for your home or business