Landscaper Killed by Bee Swarm
---
A huge swarm of about 300,000 bees attacked landscapers working outside a home in Arizona where one person was killed and several others recovering, reports Tucson News Now.
Firefighters got a call for help to a home in the 1700 block of 21st Street, to find several people stung by bees. At least two of the victims had to be taken to the hospital. A 32 year old landscaper went into cardiac arrest after being stung hundreds of times.
According to Douglas Fire Chief Mario Novoa, out of the seven people that were stung, four were landscapers of Douglas ARC, which works with citizens who have developmental disabilities, and put them to work on landscaping projects around town.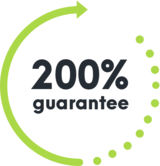 WE'RE NOT HAPPY UNLESS YOU'RE HAPPY
SEE HOW IT WORKS
With Competitive Pest Control Services you'll never have to worry about paying for a job that hasn't been done.

If you're not satisfied with our services, we'll not only give you your money back, we'll return it to you twofold. That's right: you'll not only receive a full refund, we'll also pay to have your pest problem sorted by our competition.*

We're always trying to raise the standard of service, it's one of the reasons we were name Australian Pest Manager of the Year four times in the past six years. When you employ our services, you know your pest problem will soon be a distant memory. What could be more satisfying than that?

*Please contact us to hear more about our 200% Money Back Guarantee - as due to issues sometimes outside our control, not all services may be covered by this offer.
Talk to us about pest control for your home or business