Making LED Light Bulbs Less Attractive to Insects to Help Prevent Disease
---
Travis Longcore who is a professor of spatial sciences at the University of Southern California is working with Royal Philips, a Dutch electronics company, to develop bulbs that will be less attractive to insects.
The idea is "an energy-efficient bulb that has a comfortable colour temperature and minimizes insect attraction, solving all of these problems together." Said Dr. Longcore to NY Times.
By making LED light bulbs give off less blue light they hope it may be able help protect people from insect-borne diseases such as Malaria, Leishmaniosis, Chagas and other diseases. They are transmitted by Mosquitoes, sand flies and the kissing bugs who are attracted to the blue wavelengths of the oldest and cheapest LED bulbs, which were created by putting a phosphor coating on a blue diode.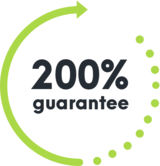 WE'RE NOT HAPPY UNLESS YOU'RE HAPPY
SEE HOW IT WORKS
With Competitive Pest Control Services you'll never have to worry about paying for a job that hasn't been done.

If you're not satisfied with our services, we'll not only give you your money back, we'll return it to you twofold. That's right: you'll not only receive a full refund, we'll also pay to have your pest problem sorted by our competition.*

We're always trying to raise the standard of service, it's one of the reasons we were name Australian Pest Manager of the Year four times in the past six years. When you employ our services, you know your pest problem will soon be a distant memory. What could be more satisfying than that?

*Please contact us to hear more about our 200% Money Back Guarantee - as due to issues sometimes outside our control, not all services may be covered by this offer.
Talk to us about pest control for your home or business