Pest Fighting Drones to the Rescue
---
Drones can be very useful in pest control, reported The Chronicle's Rachael Murray.
A drone is an unmanned flying device that is controlled remotely from the ground.
Queensland mechatronic researcher engineers, Dr Alison and Dr Cheryl McCarthy, have developed a new drone that can identify pests, noxious plants and signs of disease. The device uses specialist vision technology that sends data directly to farmers. The researchers said the field is ripe for development as automatic analysis is still in its infancy.
The drone was unveiled at the Accelerate Queensland Science and Innovation Program. The Government will use the program to invest $8.75 million into research.
Dr Cheryl McCarthy said there was limited traditional funding for innovative research of this kind in Queensland and that the Government's new line of funding would be crucial for developing creative new technology.
The money will help new researchers and those who are early in their career to make a signficant contribution to solving problems affecting the state.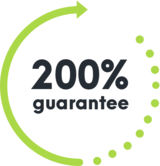 WE'RE NOT HAPPY UNLESS YOU'RE HAPPY
SEE HOW IT WORKS
With Competitive Pest Control Services you'll never have to worry about paying for a job that hasn't been done.

If you're not satisfied with our services, we'll not only give you your money back, we'll return it to you twofold. That's right: you'll not only receive a full refund, we'll also pay to have your pest problem sorted by our competition.*

We're always trying to raise the standard of service, it's one of the reasons we were name Australian Pest Manager of the Year four times in the past six years. When you employ our services, you know your pest problem will soon be a distant memory. What could be more satisfying than that?

*Please contact us to hear more about our 200% Money Back Guarantee - as due to issues sometimes outside our control, not all services may be covered by this offer.
Talk to us about pest control for your home or business