Pest Threatens The Philippines' Most Valuable Agricultural Export
---
400,000 coconut trees were damaged in the past week and Secretary Francis Pangilinan, who is in charge of the Philippines' food security, announced the 24 percent jump in the past week in the number of trees affected by an insect infestation, now totaling to 2.1 million coconut trees. Fears of spreading to key growing areas and jeopardizing the country's most valuable agricultural export are a real concern, reports the Manila Bulletin.
The infestations, which are quickly spreading, are stripping the coconut trees in it's path. The insect feeds on the leaves of the trees, sucking all the nutrients out of it until they turn yellow, leaving them to die and fall off. Romulo Arancon, administrator of the Philippine Coconut Authority (PCA) estimated a thousand insects can multiply to about 200,000 in just 45 days.
This is likely to further boost the prices of the commodity. Coconut oil prices in Rotterdam have jumped 13 percent this year to $1,420 per tonne in June as there were limited supplies from the damage caused by pests and since the Philippines was hit by a typhoon last year.
"If we don't intervene by the end of the year, Regions 5 and 9 would be affected too" said Secretary Francis Pangilinan, in reference to two key growing areas responsible for a fifth of national output, further adding, "I't s a race against time." While the 2.1 million affected coconut trees represent less than 1 percent of the total 300 million coconut trees in the Philippines, it is hard to say how much loss there is so far, but Pangilinan, also chairman of the PCA board said it can result in losses of more than $756 million in a year if it spreads to major coconut growing provinces.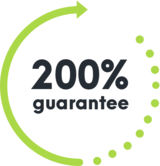 WE'RE NOT HAPPY UNLESS YOU'RE HAPPY
SEE HOW IT WORKS
With Competitive Pest Control Services you'll never have to worry about paying for a job that hasn't been done.

If you're not satisfied with our services, we'll not only give you your money back, we'll return it to you twofold. That's right: you'll not only receive a full refund, we'll also pay to have your pest problem sorted by our competition.*

We're always trying to raise the standard of service, it's one of the reasons we were name Australian Pest Manager of the Year four times in the past six years. When you employ our services, you know your pest problem will soon be a distant memory. What could be more satisfying than that?

*Please contact us to hear more about our 200% Money Back Guarantee - as due to issues sometimes outside our control, not all services may be covered by this offer.
Talk to us about pest control for your home or business