Pests and Parks are Priorities for the ACT Government
---
The latest ACT budget favours new investment in environmental initiatives such as pest control and hiring more park staff. These areas have been prioritised over other environmental projects such as water-saving programs.
According to a representative of the Minister for the Environment and Sustainable Development, Simon Corbell, the directorate has saved around $2.1 million by cutting back on the IrrigationSmart and GardenSmart initiatives.
Funds have been allocated for weed control, pest control, parks and reserves restoration, and more park rangers. Five new park rangers will be hired over the next four financial years, at a cost of $1.5 million to the state. Two of these new park rangers are expected to start work in the coming year.
A total of $450,000 will be spent on weed management in Canberra Nature Park, Murrumbidgee River Corridor, and some rural roadsides. $400,000 has been assigned to pest control, and $250,000 will be spent on the restoration of parks and reserves in the state.
Source:http://www.canberratimes.com.au/act-news/parks-pests-take-priority-20130604-2noh7.html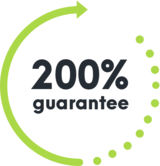 WE'RE NOT HAPPY UNLESS YOU'RE HAPPY
SEE HOW IT WORKS
With Competitive Pest Control Services you'll never have to worry about paying for a job that hasn't been done.

If you're not satisfied with our services, we'll not only give you your money back, we'll return it to you twofold. That's right: you'll not only receive a full refund, we'll also pay to have your pest problem sorted by our competition.*

We're always trying to raise the standard of service, it's one of the reasons we were name Australian Pest Manager of the Year four times in the past six years. When you employ our services, you know your pest problem will soon be a distant memory. What could be more satisfying than that?

*Please contact us to hear more about our 200% Money Back Guarantee - as due to issues sometimes outside our control, not all services may be covered by this offer.
Talk to us about pest control for your home or business