Pollinator Protection Week
---
Despite being a safety hazard, bees, bats, butterflies and beetles are valuable members of the ecosystem. These pollinators play an essential role in the nation's food supply as we rely on them to help pollinate crops and other plants.
There is a week in June designated to the protection of these pests. 2014 celebrates the seventh Pollinator Protection Week, which was on from the 16th of June to the 22nd of June.
Pollinator Protection Week, which first started in the United States, has now grown to be an international celebration. It stresses the importance of the pollinators and addresses the urgent issue of the declining populations of these insects.
INTERESTING FACTS ABOUT POLLINATORS:
– Stinging insects (which include bees, wasps, yellowjackets and hornets) are responsible for an estimated 500,000 people at the hospital each year.
– Three-fourths of the world's flowering plants rely on animal pollinators to reproduce.
– Honey bees are the most well known pollinators, however, butterflies, birds, beetles, moths and other animals are also pollinators.
– It is estimated that at least one of every three bites of food is touched by a pollinator.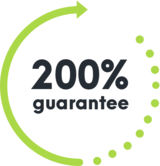 WE'RE NOT HAPPY UNLESS YOU'RE HAPPY
SEE HOW IT WORKS
With Competitive Pest Control Services you'll never have to worry about paying for a job that hasn't been done.

If you're not satisfied with our services, we'll not only give you your money back, we'll return it to you twofold. That's right: you'll not only receive a full refund, we'll also pay to have your pest problem sorted by our competition.*

We're always trying to raise the standard of service, it's one of the reasons we were name Australian Pest Manager of the Year four times in the past six years. When you employ our services, you know your pest problem will soon be a distant memory. What could be more satisfying than that?

*Please contact us to hear more about our 200% Money Back Guarantee - as due to issues sometimes outside our control, not all services may be covered by this offer.
Talk to us about pest control for your home or business