Rats, Fleas and Maggots Found at UK Hospitals
---
Fleas, maggots and rats were discovered in infestations at Epsom and St Helier hospitals in the UK, according to the Wimbeldon Guardian.
The pests have placed patients in danger and pest controllers have had to be called our 26 times to control them this year.
Rats can spread salmonella and the potentially lethal Weil's disease. Other pests such as pigeons and foxes have also been a problem, with the hospital trust spending its 45,000 pound budget controlling them.
A spokesperson for the trust said that it takes pest control very seriously.
In 2008, the trust spent 72,000 pounds investing in pest control infrastructure including pigeon nets. It said that the majority of pest control calls are for non-patient areas and that it always responds immediately to signs of pests.
This year the hospital has spent 14,000 pounds on pest control, which it argues is a sign that its preventative measures are working. Pest control inspections are held every week.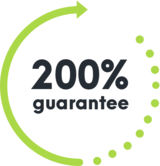 WE'RE NOT HAPPY UNLESS YOU'RE HAPPY
SEE HOW IT WORKS
With Competitive Pest Control Services you'll never have to worry about paying for a job that hasn't been done.

If you're not satisfied with our services, we'll not only give you your money back, we'll return it to you twofold. That's right: you'll not only receive a full refund, we'll also pay to have your pest problem sorted by our competition.*

We're always trying to raise the standard of service, it's one of the reasons we were name Australian Pest Manager of the Year four times in the past six years. When you employ our services, you know your pest problem will soon be a distant memory. What could be more satisfying than that?

*Please contact us to hear more about our 200% Money Back Guarantee - as due to issues sometimes outside our control, not all services may be covered by this offer.
Talk to us about pest control for your home or business