Rats Terrorise Gold Coast Residents
---
Residents in a Runaway Bay complex on the Gold Coast are being terrorised by large rats.
Complex manager Rhonda Delaney said that the rats were coming from a nearby abandoned property next to a lake.
The poorly maintained site is adjacent to the back garden of the complex and the rats are now regularly entering residents' properties.
Many are terrified to go outside and some are even considering moving.
The site owner had tried using bait and traps but these proved ineffective. The abandoned site is now not only an eyesore, but also a risk to the health of local residents.
The lake also floods residents' properties during heavy rain, ruining their gardens and causing a surge in mosquitoes.
"There are so many mosquitoes, residents can't sit outside," said Delaney.
With security fencing having been taken down, residents are also worried that a child might drown in the lake.
The site was originally going to be used for a social housing complex, but this plan was abandoned after fierce local opposition.
Source: http://www.goldcoast.com.au/article/2013/08/25/456877_gold-coast-news.html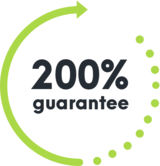 WE'RE NOT HAPPY UNLESS YOU'RE HAPPY
SEE HOW IT WORKS
With Competitive Pest Control Services you'll never have to worry about paying for a job that hasn't been done.

If you're not satisfied with our services, we'll not only give you your money back, we'll return it to you twofold. That's right: you'll not only receive a full refund, we'll also pay to have your pest problem sorted by our competition.*

We're always trying to raise the standard of service, it's one of the reasons we were name Australian Pest Manager of the Year four times in the past six years. When you employ our services, you know your pest problem will soon be a distant memory. What could be more satisfying than that?

*Please contact us to hear more about our 200% Money Back Guarantee - as due to issues sometimes outside our control, not all services may be covered by this offer.
Talk to us about pest control for your home or business