Researchers discover Fossils of Largest Rat in History
---
Researchers have claimed that they have discovered fossils of the largest rat in history. There are over 60 species of rats found all over the world which means the creature comes in various sizes but according to researchers they have found fossils of about seven massive rats in East Timor that indicates the rats were more than 10 times bigger than modern rats.
The largest to have existed: Giant Rat Fossils
Thousands of years ago, humans were living alongside the giant rats. At that time those huge rats were foods for humans. The researchers found evidence suggesting that humans caught and ate the giant rats. They discovered rat bones that have cuts and burn marks. Julien Louys, one of the researchers who found the remains, said those ancient creatures were mega-fauna. The biggest rat was about the size of a small dog and its weight was approximately five kilograms, Louys added.
Louys said in a news release, "The funny thing is that they co-existed up until about a thousand years ago. The reason we think they became extinct is because that was when metal tools started to be introduced in East Timor, people could start to clear forests at a much larger scale". The finding revealed that the gigantic creature went extinct as human technology improved.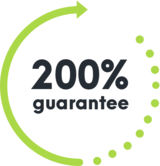 WE'RE NOT HAPPY UNLESS YOU'RE HAPPY
SEE HOW IT WORKS
With Competitive Pest Control Services you'll never have to worry about paying for a job that hasn't been done.

If you're not satisfied with our services, we'll not only give you your money back, we'll return it to you twofold. That's right: you'll not only receive a full refund, we'll also pay to have your pest problem sorted by our competition.*

We're always trying to raise the standard of service, it's one of the reasons we were name Australian Pest Manager of the Year four times in the past six years. When you employ our services, you know your pest problem will soon be a distant memory. What could be more satisfying than that?

*Please contact us to hear more about our 200% Money Back Guarantee - as due to issues sometimes outside our control, not all services may be covered by this offer.
Talk to us about pest control for your home or business