Snake Sets House On Fire
---
A woman in Texas has set her house on fire while trying to set a snake alight.
The woman was startled by the snake and poured gasoline on it. Her son then lit a match and threw it at the reptile but the snake slithered into a nearby bush, setting it alight. The fire then spread to the house before the woman made an urgent call to the fire department to help. Her house was completely destroyed while a neighbouring property suffered significant damage.
Authorities said this is not the first time animals have helped spread major fires. David Wesslehoft, a Fire Chief, explained to CBS 12 News that rabbits and even large field mice sometimes caught fire during burn offs and spread the flames as they ran across fields.
In India recently, a rat took a lit candle that was being used in a religious ceremony inside a house. The candle was brushed against clothes that soon caught alight and proceeded to set the house on fire. The fire department had to be called to try to save the home.
Source: blogs.crikey.com.au/northern/2013/06/22/burning-down-the-house-when-rats-snakes-take-their-revenge/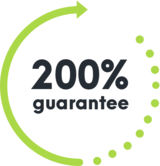 WE'RE NOT HAPPY UNLESS YOU'RE HAPPY
SEE HOW IT WORKS
With Competitive Pest Control Services you'll never have to worry about paying for a job that hasn't been done.

If you're not satisfied with our services, we'll not only give you your money back, we'll return it to you twofold. That's right: you'll not only receive a full refund, we'll also pay to have your pest problem sorted by our competition.*

We're always trying to raise the standard of service, it's one of the reasons we were name Australian Pest Manager of the Year four times in the past six years. When you employ our services, you know your pest problem will soon be a distant memory. What could be more satisfying than that?

*Please contact us to hear more about our 200% Money Back Guarantee - as due to issues sometimes outside our control, not all services may be covered by this offer.
Talk to us about pest control for your home or business