Unexpected pests: Monkeys in India
---
In cities such as Delhi in India monkeys have become a huge pest problem. Usually found in the forest, monkeys such as the rhesus macaque have become an issue in city areas. The mischievous monkeys' love of stealing food, trespassing, and fighting with one another has earned them the nickname "rebel monkeys". Some of them have been known to pickpocket people and tourists. They are incredibly intelligent animals. But no one is allowed to harm the macaques, because monkeys are sacred in India. They'll eat just about anything people eat. And their insatiable appetite often takes them to dangerous heights. Both their hands and feet have thumbs, making it easy to scurry up walls and amble across power lines in their non stop search for food. It can be a very dangerous quest as live power lines have frequently shocked and or killed these animals.
How can they be stopped?
It's the job of the official government monkey catchers to round up cities most unruly monkeys and cart them out of town. This is usually short lived however as they often return, by being lured in the smell of human food. Nearly ninety percent of their diet comes from humans, making it difficult for them to survive out in the wild. If you do visit Delhi anytime soon make sure to keep your keys and wallets safe from these furry pickpockets.
Let us help keep you safe, call us for your pest removal needs today – phone 1300 766 614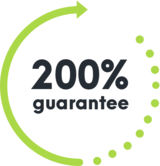 WE'RE NOT HAPPY UNLESS YOU'RE HAPPY
SEE HOW IT WORKS
With Competitive Pest Control Services you'll never have to worry about paying for a job that hasn't been done.

If you're not satisfied with our services, we'll not only give you your money back, we'll return it to you twofold. That's right: you'll not only receive a full refund, we'll also pay to have your pest problem sorted by our competition.*

We're always trying to raise the standard of service, it's one of the reasons we were name Australian Pest Manager of the Year four times in the past six years. When you employ our services, you know your pest problem will soon be a distant memory. What could be more satisfying than that?

*Please contact us to hear more about our 200% Money Back Guarantee - as due to issues sometimes outside our control, not all services may be covered by this offer.
Talk to us about pest control for your home or business