Venomous Spiders Shut UK School
---
A British school has closed following an invasion of venomous false widow spiders, reported ABC News.
Officials shut down Dean Academy in Gloucestershire to allow pest controllers to exterminate the pest.
There has been a large spike in false widow numbers this year, with the spider able to inflict serious swelling and chest pains.
False widow spiders are suspected to have been brought to Britain from the Canary Isles in the 1800s. This population has been repeatedly bolstered via banana importations.
The spiders have now established strong colonies in southern England and some experts argue that global warming is allowing them to spread across the country.
Although the species is not aggressive and bites are rare, the principal of Dean Academy decided to close the school in the interests of student health and safety.
The spiders survived an initial fumigation and so the school was closed to allow for a more thorough follow up treatment.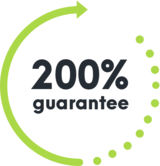 WE'RE NOT HAPPY UNLESS YOU'RE HAPPY
SEE HOW IT WORKS
With Competitive Pest Control Services you'll never have to worry about paying for a job that hasn't been done.

If you're not satisfied with our services, we'll not only give you your money back, we'll return it to you twofold. That's right: you'll not only receive a full refund, we'll also pay to have your pest problem sorted by our competition.*

We're always trying to raise the standard of service, it's one of the reasons we were name Australian Pest Manager of the Year four times in the past six years. When you employ our services, you know your pest problem will soon be a distant memory. What could be more satisfying than that?

*Please contact us to hear more about our 200% Money Back Guarantee - as due to issues sometimes outside our control, not all services may be covered by this offer.
Talk to us about pest control for your home or business