5. Residents Warned of Escalating Wasp Numbers
---
Canberra residents are being warned of growing European wasp numbers and nests. Hibernation and queen rearing takes place at this time of the year for this wasp.
European wasp: invasive species in Canberra
Dr Philip Spradbery, a wasp expert from Territory and Municipal Services, stated that residents should act now by treating nests as soon as possible.
He described the European wasp as an "invasive species in Canberra" and added that current queens could produce 20,000 new queens, each of which could build a new nest of its own.
While it can be difficult to find a wasp nest, there are other ways to tell when a home has a nest of wasps. There is often a hole leading into the house or garden, and wasps can be seen flying around the hole during the day.
Nests can be difficult to treat. Dr Spradbery encouraged residents who believe they have a European wasp nest to contact the ACT Government's European Wasp Hotline for more information, or to seek the advice of a professional.
Source: http://www.canberratimes.com.au/environment/animals/wasps-nest-warning-as-numbers-peak-20130528-2n8bv.html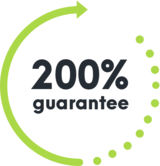 WE'RE NOT HAPPY UNLESS YOU'RE HAPPY
SEE HOW IT WORKS
With Competitive Pest Control Services you'll never have to worry about paying for a job that hasn't been done.

If you're not satisfied with our services, we'll not only give you your money back, we'll return it to you twofold. That's right: you'll not only receive a full refund, we'll also pay to have your pest problem sorted by our competition.*

We're always trying to raise the standard of service, it's one of the reasons we were name Australian Pest Manager of the Year four times in the past six years. When you employ our services, you know your pest problem will soon be a distant memory. What could be more satisfying than that?

*Please contact us to hear more about our 200% Money Back Guarantee - as due to issues sometimes outside our control, not all services may be covered by this offer.
Talk to us about pest control for your home or business