Fire Ant Outbreak Hits Queensland Town
---
A large fire ant outbreak has occurred for the second time in Australia, again in Queensland. The Ipswich suburb of Goodna is under attack by an infestation of the destructive and aggressive insects.
Fire ants can cause severe injuries such as blindness and scarring in humans, domestic pets, and livestock. Fire ant swarms have been known to kill young animals such as calves.
Ipswich Councillor Paul Tully stated that while the fire ant has largely been under control since the first outbreak in 2001, many people are still unaware of the dangers of fire ants. Fire ants are an aggressive species and they will attack anything that it perceives to be attacking its nest or food supply.
According to Craig Jennings, the scientific services manager with Biosecurity Queensland, fire ants can be hard to distinguish from native species. However, they do build distinctive nests that are 30 to 70cm in diameter, 30cm high and have no entry or exit holes.
Jennings said that the goal is to have the fire ant completely eradicated from Australia by using better technology and equipment.
Source:http://www.abc.net.au/rural/telegraph/content/2013/s3758871.htm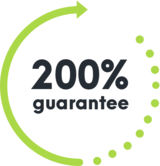 WE'RE NOT HAPPY UNLESS YOU'RE HAPPY
SEE HOW IT WORKS
With Competitive Pest Control Services you'll never have to worry about paying for a job that hasn't been done.

If you're not satisfied with our services, we'll not only give you your money back, we'll return it to you twofold. That's right: you'll not only receive a full refund, we'll also pay to have your pest problem sorted by our competition.*

We're always trying to raise the standard of service, it's one of the reasons we were name Australian Pest Manager of the Year four times in the past six years. When you employ our services, you know your pest problem will soon be a distant memory. What could be more satisfying than that?

*Please contact us to hear more about our 200% Money Back Guarantee - as due to issues sometimes outside our control, not all services may be covered by this offer.
Talk to us about pest control for your home or business