Residents Terrorised by Giant Rat Invasion
---
Giant rats have invaded a number of Rotorua residences in Logan Street, Kawaha Point Rd, and Luke Place. The large water rats gained access to the homes by chewing through skirting boards and walls.
Local residents say they have killed numerous rats in recent weeks. Some of these rats are said to be as large as cats. One rat was large enough to have dragged a trap back through the hole through which it first entered the house.
Residents believe that the presence of a creek, water drain, and a patch of overgrown shrubbery along a cycle track have worsened the infestation. The shrubbery has given the rodents a place to build their nests.
Local resident Carl Brake said that she often has large rats on her back deck, which looks out over the creek. Other residents have complained that they can hear the rats scratching around the house or roof at night.
Despite these protestations from local residents, the Rotorua District Council said that it had not received any notifications about the issue. However, the Council has inspected the drain and is planning to spray it in the near future.
Source:http://www.sunshinecoastdaily.com.au/news/plague-giant-rats-attack-residents/1847486/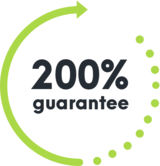 WE'RE NOT HAPPY UNLESS YOU'RE HAPPY
SEE HOW IT WORKS
With Competitive Pest Control Services you'll never have to worry about paying for a job that hasn't been done.

If you're not satisfied with our services, we'll not only give you your money back, we'll return it to you twofold. That's right: you'll not only receive a full refund, we'll also pay to have your pest problem sorted by our competition.*

We're always trying to raise the standard of service, it's one of the reasons we were name Australian Pest Manager of the Year four times in the past six years. When you employ our services, you know your pest problem will soon be a distant memory. What could be more satisfying than that?

*Please contact us to hear more about our 200% Money Back Guarantee - as due to issues sometimes outside our control, not all services may be covered by this offer.
Talk to us about pest control for your home or business