Alabama Boy Dies From Brown Recluse Spider Bite
---
Branson Riley Carlisle, a five year old boy from Alabama, died 14 hours after he had been bitten by a brown recluse spider. Jessica Carlisle, Branson's mother, had photographed the progression of her son's bite wound 15 minutes, 1 hour and 9 hours after the bite as well as capturing and photographing the spider, allowing for experts to confirm it was indeed a brown recluse spider, reports Al.com.
It is important to understand the rarity of this situation. In the past decade over 300 people have died after being struck by lightning in the United States alone. However, excluding Branson Carlisle, the total deaths from brown recluse spiders in the past 10 years is one.
Brown recluse spiders can inflict painful bites on victims, however it is very rare for the toxins to become systemic and bites to be serious. A systemic response occurs in less than 1 percent of brown recluse bites, although that type of reaction can result in death. Most of the time, brown recluse bites are minor and usually self-healing.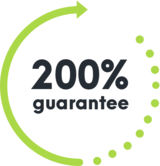 WE'RE NOT HAPPY UNLESS YOU'RE HAPPY
SEE HOW IT WORKS
With Competitive Pest Control Services you'll never have to worry about paying for a job that hasn't been done.

If you're not satisfied with our services, we'll not only give you your money back, we'll return it to you twofold. That's right: you'll not only receive a full refund, we'll also pay to have your pest problem sorted by our competition.*

We're always trying to raise the standard of service, it's one of the reasons we were name Australian Pest Manager of the Year four times in the past six years. When you employ our services, you know your pest problem will soon be a distant memory. What could be more satisfying than that?

*Please contact us to hear more about our 200% Money Back Guarantee - as due to issues sometimes outside our control, not all services may be covered by this offer.
Talk to us about pest control for your home or business