Insects Help Clean Up New York City
---
In a study that has been going on since 2012, Dr. Elsa Youngsteadt, a research associate and lead author of a paper on the work, examined how insects and other arthropods play a significant role in cleaning up New York City. Research demonstrated that the insects and arthropods on medians down the Broadway/West St. corridor alone consume more than 2,100 pounds of discarded junk food every year, reported PCT Online.
By placing measured amounts of junk food in cages (so bigger scavengers such as rats couldn't get to it) around the city streets and parks, researchers were able to determine exactly how much food they were eating.
The study surprised the scientists with the results that arthropods in urban environments ate two to three times more junk food than those in parks. This is believed to be from one of the most common species in the urban areas, the pavement ants (Tetramorium species), being particularly efficient foragers. Since rats and pigeons are also competing for the same food source, the research showed that the arthropods are able to limit and control populations of rats and other pests due to less availability of food.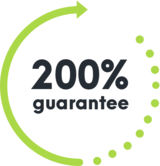 WE'RE NOT HAPPY UNLESS YOU'RE HAPPY
SEE HOW IT WORKS
With Competitive Pest Control Services you'll never have to worry about paying for a job that hasn't been done.

If you're not satisfied with our services, we'll not only give you your money back, we'll return it to you twofold. That's right: you'll not only receive a full refund, we'll also pay to have your pest problem sorted by our competition.*

We're always trying to raise the standard of service, it's one of the reasons we were name Australian Pest Manager of the Year four times in the past six years. When you employ our services, you know your pest problem will soon be a distant memory. What could be more satisfying than that?

*Please contact us to hear more about our 200% Money Back Guarantee - as due to issues sometimes outside our control, not all services may be covered by this offer.
Talk to us about pest control for your home or business