South Florida Library Temporarily Closed Due To Bed Bug Infestation
---
After a number of complaints from patrons about being bitten, the Oakland Park Library has been temporarily shut down to treat a bed bug infestation, reported the Sun Sentinel.
Surprisingly, bed bugs in libraries are a very common issue across the country where at times, bed bug sniffing dogs have been used to track down potential problems. Bed bugs can be found where people spend a lot of time and with an increased amount of people spending long periods of time at the library, it is easy for patrons to unknowingly carry in bugs from infested homes.
Renne Shrout, the Oakland Park City Clerk, has taken action immediately, though there is no real prevention. The library has been fumigated to kill the bed bugs and their eggs quickly. All chairs that were cloth have been removed and replaced with leatherette-type chairs that will make it much harder for bed bugs to attach to.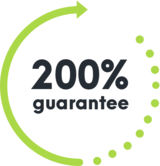 WE'RE NOT HAPPY UNLESS YOU'RE HAPPY
SEE HOW IT WORKS
With Competitive Pest Control Services you'll never have to worry about paying for a job that hasn't been done.

If you're not satisfied with our services, we'll not only give you your money back, we'll return it to you twofold. That's right: you'll not only receive a full refund, we'll also pay to have your pest problem sorted by our competition.*

We're always trying to raise the standard of service, it's one of the reasons we were name Australian Pest Manager of the Year four times in the past six years. When you employ our services, you know your pest problem will soon be a distant memory. What could be more satisfying than that?

*Please contact us to hear more about our 200% Money Back Guarantee - as due to issues sometimes outside our control, not all services may be covered by this offer.
Talk to us about pest control for your home or business