America's List of 'Bed Bug Cities'
---
For the third year in a row, Chicago tops the list for 'Bed Bugs Cities' in America, reported PCT Online. Chicago also came first in the list of America's Rattiest City for 2014.
The following is a list of the top 20 Bed Bug Cities in the United States. This is ranked from the number of bed bug treatments performed throughout 2014.
Top 20 'Bed Bug Cities in the America
1. Chicago
2. Detroit
3. Columbus, Ohio
4. Los Angeles
5. Cleveland – Akron – Canton, Ohio
6. Dallas – Ft. Worth
7. Dincinnati
8. Denver
9. Richmond – Petersburg, Va.
10. Dayton, Ohio
11. Indianapolis
12. Houston
13. Seattle – Tacoma
14. Washington, District of Columbia – Hagerstown, Md.
15. Milwaukee
16. San Francisco – Oakland – San Jose
17. Raleigh – Durham – Fayetteville, N.C.
18. New York
19. Charleston – Huntington, W. Va.
20. Grand Rapids – Kalamazoo – Battle Creek, Mich.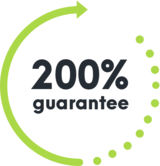 WE'RE NOT HAPPY UNLESS YOU'RE HAPPY
SEE HOW IT WORKS
With Competitive Pest Control Services you'll never have to worry about paying for a job that hasn't been done.

If you're not satisfied with our services, we'll not only give you your money back, we'll return it to you twofold. That's right: you'll not only receive a full refund, we'll also pay to have your pest problem sorted by our competition.*

We're always trying to raise the standard of service, it's one of the reasons we were name Australian Pest Manager of the Year four times in the past six years. When you employ our services, you know your pest problem will soon be a distant memory. What could be more satisfying than that?

*Please contact us to hear more about our 200% Money Back Guarantee - as due to issues sometimes outside our control, not all services may be covered by this offer.
Talk to us about pest control for your home or business