Avoid bringing bedbugs home from holiday…
---
A chance to relax and escape the everyday demands of work and home is a real reward, but today's vacations bring an extra worry besides airline baggage fees: bedbugs. Once rarely seen, these blood-sucking creatures are appearing with a vengeance at the very places we go to escape – hotels and apartment rentals. But worse than finding bedbugs on holiday is bringing them home.
Tips for preventing bedbugs when traveling:
Before making hotel reservations, do a quick search online to see if bedbugs have been reported at the hotel or apartment you've chosen. Sites like bedbugregistry.com list UK and USA hotels where bedbugs have been spotted. While these sites can sometimes be in error, if you spot multiple listings and a number of bedbug sites reported within a specific area, it's possible this is a bedbug "hot spot."
To be certain you'll get a good night's sleep, also check out hotel reviews on travel websites like tripadvisor.com to find out about bedbugs, or to see if there are other problems at specific hotels.
Bed check
Once your research is done, inspecting your hotel room upon arrival could prevent bedbugs from hitching a ride home with you. Check the sheets, blanket, and the seams of the mattress and box spring. Lift the mattress and look underneath, where bedbugs like to hide. Check for telltale pinpoint spots of blood. Examine the headboard too, because bedbugs will hide in joints in the wood.
While you're in the room, avoid putting clothes or luggage on the floor because bedbugs can get inside. Pull the luggage rack away from the wall to stop bedbugs from crawling inside.
The most common sign that you've slept with bedbugs is the itchy red bumps they leave behind. If you wake up with bites, notify the hotel manager immediately to request a new room, or move to another hotel.
When you get home, take steps to avoid bringing these pests into the house. Undress in the garage and bag your clothing and luggage in garbage bags, tied tightly and sealed with duct tape. If you do develop a problem, contact Competitive Pest Control. Treating these pests is not a DIY job.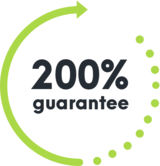 WE'RE NOT HAPPY UNLESS YOU'RE HAPPY
SEE HOW IT WORKS
With Competitive Pest Control Services you'll never have to worry about paying for a job that hasn't been done.

If you're not satisfied with our services, we'll not only give you your money back, we'll return it to you twofold. That's right: you'll not only receive a full refund, we'll also pay to have your pest problem sorted by our competition.*

We're always trying to raise the standard of service, it's one of the reasons we were name Australian Pest Manager of the Year four times in the past six years. When you employ our services, you know your pest problem will soon be a distant memory. What could be more satisfying than that?

*Please contact us to hear more about our 200% Money Back Guarantee - as due to issues sometimes outside our control, not all services may be covered by this offer.
Talk to us about pest control for your home or business