Pantry Moth Prevention Clean-out
---
Winter is a season we tend to spend more time at home. This is a great time of year to clean out the pantry, in an effort to prevent a Spring/Summer outbreak of Pantry Moths.
How To Prevent & Get Rid Of Pantry Moths?
Pantry moths are small moths that feed on grains, nuts, rice and any other dry food stored in a kitchen cupboard. They lay eggs in the food, creating small webs and sticky clumps of food. Pantry moths also lay eggs in tiny crevices in kitchens, such as cupboard door hinges. It can be difficult to rid your home of pantry moths, thats why an annual clean out can prevent an infestation occurring.
1. Clean Thoroughly
Wash your cupboards with soapy water. There is no need to use harsh cleaners and pesticides. You don't want to leave any chemical residue that will contaminate your food later. Physically removing all moths, larvae and eggs is enough to get rid of a pantry moth infestation. Use a cotton swab to clean crevices, such as cupboard door hinges and holes for adjustable shelves inside cupboards.
2. Proper Storage
Any food that comes in bags or cardboard boxes should be kept inside sturdy sealable containers. Coffee cans make great food storage containers. You may want to keep foods that will not be used quickly in the freezer.
3. Check "Use By" Dates
Moths can easily infiltrate a bag of dry rice, cereal, or flour. They have even been known to infest lollies. Check store life of the products at least once a year, and remove any products that are well past their use by dates. If you are not sure about how long a product may have been in the cupboards, remember at Competitive Pest Control we say "If in doubt, throw it out".
If an outbreak does occur, take the following steps:
4. Throw Away Pantry Moth Infested Food
Once you notice a pantry moth infestation, you need to throw away all food stored in bags and boxes. Canned food will be unharmed, but the cans should be washed because the moths can lay eggs on the edges of the cans.
When buying new food to replace the old, keep it in the refrigerator or freezer until you have completely gotten rid of all traces of the pantry moths.
5. Vacuum Up Larvae and Eggs
A vacuum cleaner is the most important tool in cleaning out a pantry moth infestation. Thoroughly vacuum out all cupboards and any areas of your kitchen and home where you have seen pantry moths or larvae. They will often lay eggs in the corners of cupboards and the edge between the ceiling and wall, so pay special attention to small spaces.
6. Wait Patiently
The life cycle of a pantry moth is anywhere from 25 days to 8 weeks. So, you should leave your cupboards bare for a few weeks. This will enable you to see if any new pantry moths have appeared. If no pantry moths appear in this time, you may restock your cupboards. But, if even one moth appears, you should clean the cupboard a second time, paying special attention to small crevices. Moths multiply quickly, so don't overlook this step.
A clean out once a year, and correct storage of products, can prevent a costly infestation taking over your cupboards and/or pantry. For any questions regarding the above, please do not hesitate to contact Competitive on 1300 920 882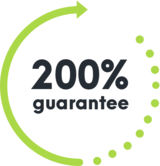 WE'RE NOT HAPPY UNLESS YOU'RE HAPPY
SEE HOW IT WORKS
With Competitive Pest Control Services you'll never have to worry about paying for a job that hasn't been done.

If you're not satisfied with our services, we'll not only give you your money back, we'll return it to you twofold. That's right: you'll not only receive a full refund, we'll also pay to have your pest problem sorted by our competition.*

We're always trying to raise the standard of service, it's one of the reasons we were name Australian Pest Manager of the Year four times in the past six years. When you employ our services, you know your pest problem will soon be a distant memory. What could be more satisfying than that?

*Please contact us to hear more about our 200% Money Back Guarantee - as due to issues sometimes outside our control, not all services may be covered by this offer.
Talk to us about pest control for your home or business