How to Get Rid of Pantry Pests?
---
Don't Let Pantry and Pests Invade Your Holiday Cooking
When the holiday season approaches, many decide to bake treats for friends and family. We would like to give you some tips when digging through your cabinets for baking items, like cookie cutters and containers of flour.
"Pantry pests" are insects that tend to be around food stored in pantries and cabinets. Examples include flour, dry cereals, spices, candies and chocolate. The most common pantry pests include Indian meal moths and Merchant Grain Beetles.\
Easy ways to get rid of Pantry Pests
Competitive Pest Control suggests the following steps to avoid the pantry pests:
1. Immediately wipe any crumbs or spills from countertops, tables, floors and shelves.
2.Always store food in airtight containers.
3. Ensure the packaging of purchased food shows no sign of damage.
4. Dispose of garbage frequently in sealed bags.
5. Try adding a bay leaf to containers and packages of dry goods like flour, and rice. Their scent can repel many pantry pests.
6. Install door sweeps on exterior doors and repair damaged screens
7. Before use, always check expiration dates on ingredients.
8. Eliminate any moisture sites, including leaking pipes and drains
If you suspect a pest infestation, contact Competitive Pest Control on 1300 766 614 to discuss treatment options.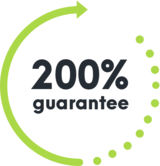 WE'RE NOT HAPPY UNLESS YOU'RE HAPPY
SEE HOW IT WORKS
With Competitive Pest Control Services you'll never have to worry about paying for a job that hasn't been done.

If you're not satisfied with our services, we'll not only give you your money back, we'll return it to you twofold. That's right: you'll not only receive a full refund, we'll also pay to have your pest problem sorted by our competition.*

We're always trying to raise the standard of service, it's one of the reasons we were name Australian Pest Manager of the Year four times in the past six years. When you employ our services, you know your pest problem will soon be a distant memory. What could be more satisfying than that?

*Please contact us to hear more about our 200% Money Back Guarantee - as due to issues sometimes outside our control, not all services may be covered by this offer.
Talk to us about pest control for your home or business