Banned Pesticide Kills Tenant In The UAE
---
Maj Gen Khamis Al Mazeina, chief of Dubai Police, warned the dangers of using unlicensed pest exterminators and substances after a neighbour was killed and four others were injured from spraying apartment with a banned pesticide according to The National UAE.
Police, who first thought the man had died from food poisoning, found a strong smell coming through the floor. Fumes of aluminium phosphate, known as "bomb", were thought to have caused the death of the tenant. Four other neighbours were also found, whom the toxic fumes had injured.
The tenant who had sprayed his apartment with the banned pesticide has been charged with manslaughter, along with three other men who supplied the product also being charged with causing accidental death. Prosecutors said the tenant had admitted administering the pesticide, which he had bought from a man who was working as a pest exterminator without a license.
In recent years, such pesticides have killed several people in buildings with central air conditioners, said Dubai Police. Situations like these highlight the need for consumers to only use licenced pest management companies. Further, Competitive Pest Services only use environmentally friendly products that are safe for you, your family and pets.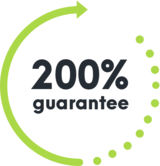 WE'RE NOT HAPPY UNLESS YOU'RE HAPPY
SEE HOW IT WORKS
With Competitive Pest Control Services you'll never have to worry about paying for a job that hasn't been done.

If you're not satisfied with our services, we'll not only give you your money back, we'll return it to you twofold. That's right: you'll not only receive a full refund, we'll also pay to have your pest problem sorted by our competition.*

We're always trying to raise the standard of service, it's one of the reasons we were name Australian Pest Manager of the Year four times in the past six years. When you employ our services, you know your pest problem will soon be a distant memory. What could be more satisfying than that?

*Please contact us to hear more about our 200% Money Back Guarantee - as due to issues sometimes outside our control, not all services may be covered by this offer.
Talk to us about pest control for your home or business