New Species of Beetle Discovered in World's Deepest Cave
---
The Krubera Cave, which is more than 2,197 metres (7,208 ft) deep, is the world's deepest cave, which is located in Abkhazia, Georgia. Also known as the "Everest of the Caves", it is home to the newest species of beetles discovered by Spanish researchers.
These six-legged cave beetles are called Duvalius Abyssimus, where only two specimens – a male and a female, have been captured. Scientists assume that these species have moderately adapted themselves to the underground life from the presence of eyes in the species, which is not present in the highly specialized cave species.
This is a great discovery as scientists are able to study how fauna co-exist in such unknown ecosystems found in geographical areas that are very difficult to access according to the Science World Report.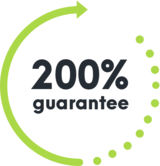 WE'RE NOT HAPPY UNLESS YOU'RE HAPPY
SEE HOW IT WORKS
With Competitive Pest Control Services you'll never have to worry about paying for a job that hasn't been done.

If you're not satisfied with our services, we'll not only give you your money back, we'll return it to you twofold. That's right: you'll not only receive a full refund, we'll also pay to have your pest problem sorted by our competition.*

We're always trying to raise the standard of service, it's one of the reasons we were name Australian Pest Manager of the Year four times in the past six years. When you employ our services, you know your pest problem will soon be a distant memory. What could be more satisfying than that?

*Please contact us to hear more about our 200% Money Back Guarantee - as due to issues sometimes outside our control, not all services may be covered by this offer.
Talk to us about pest control for your home or business